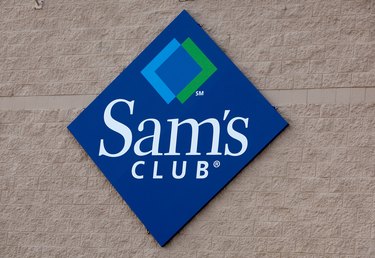 Buying a Sam's Club discount membership sounds like a no-brainer. Simply pay a membership fee and get low prices on all kinds of products at the discount warehouse store, a chain owned by Wal-Mart. But it's not quite that simple. To make a Sam's Club membership worth the cost, you need to know which products and services are truly offered at a lower cost than other stores. Weighing what you plan to purchase over the next year is important in determining if the card fee will pay for itself in savings.
How It Works
Annual membership fees vary depending on whether you buy a savings or business membership card, both of which cost $45 as of 2015. A business membership card gives you the ability to add on members for a fee, while an individual membership includes one card for yourself and one card for your partner, spouse or a person age 18 or older who lives with you. A third option, the more expensive Sam's Plus membership card, offers cash-back rewards, useful if you plan to buy a high volume of goods during the year.
Evaluate Upcoming Purchases
Take a careful look at the types of purchases you would make at Sam's Club before investing in a membership. For instance, if you need new tires, Sam's Club sells and installs tires at a discount. The chain offers 24-hour roadside assistance for three years after you buy the tires, making membership worth the cost. If your Sam's Club sells gas and you fill up frequently, this is another cost savings, as prices per gallon tend to be at least 10 cents less than at big-name gas stations. If you or a family member needs a prescription filled or new eyeglasses, Sam's Club offers them at lower prices than most other retailers. Some cleaning supplies with a long shelf life are also a good deal at Sam's Club, according to Consumer Reports. One way to stretch your dollar is to stock up right before your membership expires, and then wait a few months before renewing.
Small vs. Large Family
If you have a large family and can use up bulk products such as milk and condiments before the expiration date, a Sam's Club membership makes sense. But buying large amounts of perishable foods with a short shelf life is not the best deal for singles or couples. You're wasting money buying more than you need. The same goes for moisturizers, sunscreen, detergent and beauty products that come in large sizes but lose their effectiveness within a year or two.
Avoid Costlier Items
Some of the chain's products can be bought for the same or less money at other stores, especially if you have coupons, which Sam's Club does not allow. For instance, drinks, such as name-brand sodas and fruit juices, cost the same at Sam's Club as at some discount stores that don't require membership fees, says Consumer Reports. Books, CDs and DVDs are also usually available for less online, according to Money Watch.