If your family is having trouble affording groceries each month, you'll be happy to learn the federal government administers the Supplemental Nutrition Assistance Program, or SNAP, for low-income families. Eligible individuals and families will receive an electronics benefit card that works at most grocery stores, farmers markets and some smaller local stores that sell food. You can use these benefits any time during the month and spend up to the card's limit. The SNAP program allows you to buy any type of food they need to prepare meals, with minimal exclusions.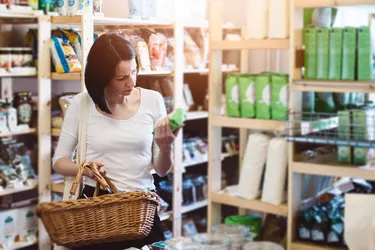 The Basics
You can use your SNAP benefits to purchase meats that provide essential protein to your diet. Options include chicken, turkey, beef, pork, shellfish and fish. The card will also pay for fresh, canned and frozen vegetables that are full of vitamins and minerals and work well alongside any meat dish. Next, cardholders can pick up fresh, canned and frozen fruits to use as a healthy dessert, or yogurt and granola, which can be paired with the fruit for additional health benefits. Bread and other bakery products are also SNAP eligible.
Other Necessary Items
SNAP benefits cover food products you use when cooking meals or baking. For example, you can buy any dairy products such as milk, eggs, creamer or cheese. You can also pick up baking supplies, such as biscuit mix, pancake mix, sugar, spices, flour or cornmeal. Any oils needed for preparing meals, such as cooking spray, oil or olive oil are also SNAP eligible. Even prepackaged items, such as canned soup bases and canned gravies count toward EBT benefits. You can also buy any condiments, such as mustard, ketchup, relish or mayonnaise.
Luxury and "Junk" Foods
EBT cards work for purchasing certain other, nonessential food items. For example, you can purchase prepackaged meals, such as pasta dishes, frozen entrees, rice dishes and canned soup. Additionally, dessert items such as cakes made in a bakery, packaged desserts, fruit snacks or ice cream are eligible. You also have the opportunity to buy drinks like soda, coffee, tea, fruit juices and certain energy drinks. You can even purchase candy.
What Can't You Buy?
You cannot use EBT benefits to pay for household items. For example, you cannot buy toilet paper, shampoo, toothpaste or deodorant with SNAP benefits. You cannot purchase pet food, pet treats or other pet products. You will not be able to use your benefits to buy alcohol or cigarettes. You also cannot use your benefits to buy food prepared in the store. For example, you cannot purchase items such as cooked fish, rotisserie chicken or prepared side dishes.