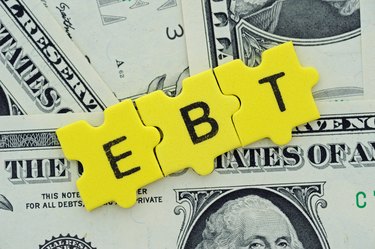 Food stamps are one of the common names used to describe the benefits of the Supplemental Nutrition Assistance Program (SNAP), which is a federal program that helps needy families purchase nutritious food. Many states issue cards to enact this program, and the Arizona EBT card, or Electronic Benefit Transfer card, is one such manifestation of this federal program. This card is often called a Quest card, and Arizona residents may want to know if their EBT or Quest cards can be used in other states.
The SNAP program is administered by the Food and Nutrition Service of the U.S. Department of Agriculture. According to the FNS SNAP website, this program is designed to help low-income families not only pay for nutritious food for themselves and their children but also to help set them on a path for future stability and success.
While the term "food stamps" hearkens to days of the past, in the modern world, this program is administered through Electronic Benefit Transfer cards, or EBT cards. These cards function much like debit or credit cards. They store the amount of funds you have from the SNAP benefits you receive and discharge those funds when you pay for food using the card at stores.
Interoperability of SNAP Cards
One important aspect of the SNAP benefit and EBT cards is that they are federally required to be interoperable. Per the Cornell Law School Legal Information Institute, the law requires interoperability among SNAP benefits across all 50 states (territories have separate programs).
This means that EBT cards and the technology behind them have to work no matter where in the United States you are. If you have been issued a SNAP, EBT or Quest card in Arizona, you can use it anywhere in the U.S. However, since this is a state program, there are some conditions you should know about first if you plan on using the card out of state.
Arizona EBT Card Geographic Restrictions
Your Arizona SNAP, EBT or Quest card represents the dollar amount of the benefits you are entitled to under Arizona's SNAP program. You can only use the benefit for certain purchases, which specifically exclude purchases or even ATM transactions at casinos, liquor stores, adult entertainment establishments, race tracks and medical marijuana dispensaries. You are also not legally allowed to buy lottery tickets with an EBT card.
However, it's understandable and common that you may need to use your EBT card outside of Arizona, such as while traveling or visiting family. Since SNAP cards are interoperable, you can use your Arizona EBT or Quest card in other states. Look for the Quest logo in store windows to make sure they accept it before trying to make purchases with your card.
However, the Arizona Department of Economic Security website cautions that you may need to answer some questions if more than 10 percent of your benefit amount is used outside of Arizona within a six-month period. This indicates that you are spending a significant amount of your benefit outside the originating state, which may warrant a closer examination of your circumstances and eligibility. As long as you have appropriate answers to these questions, however, you should be able to successfully continue using your benefits as best suits you and your family, including when you're out of town or traveling. If you have questions about your benefits, a staffer at the Arizona Department of Economic Security should be able to help.