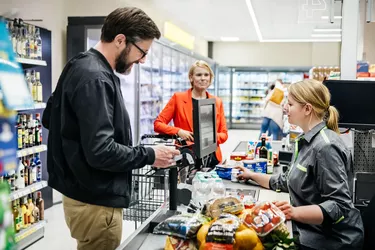 When money is tight, Massachusetts food stamp benefits can help you provide your family with a well-balanced diet. Many grocery stores and some farmers markets accept EBT cards as payment through their credit card processing machines. This makes it convenient to get the food you need from the places you are accustomed to shopping. Massachusetts SNAP benefits are eligible to be used throughout the United States, so you can use them even as you travel or if you typically shop at a store across state lines.
The United States Department of Agriculture runs the Supplemental Nutrition Assistance Program (SNAP), which provides grocery assistance to people who meet certain income eligibility requirements. These SNAP benefits are issued through electronic benefit transfer (EBT) cards that can be used on many credit card machines in popular grocery retailers.
To use your EBT card, simply swipe it through the credit card reader during checkout and enter your PIN. You should be able to see your remaining balance at the end of each transaction with your EBT card. This can help you wisely budget your benefits each month.
Obtaining a Food Stamp Card
According to Mass.gov, you can apply for a food stamp card online, without having to go to an office location. If you are not sure if you meet the eligibility requirements for food stamps in Massachusetts, you can use the state's online eligibility screener, found on their website. If you are eligible, you will be prompted to apply for benefits using the Massachusetts DTA Connect website.
Be prepared to provide the following information on your food stamp application:
Social security numbers
Birthdays
Income
Expenses
The SNAP program is an entitlement program, so if you qualify, you should receive benefits. This also means that when someone receives benefits, it does not keep another person from also receiving benefits, so there is no need to feel guilty for claiming benefits if you think others might need benefits even more than you do.
Using EBT Cards in Other States
MassLegalServices shares that you can use Massachusetts EBT cards in all 50 states. This means that if you live in Massachusetts, but typically shop for groceries in Vermont, Connecticut, New York or Maine, you will be able to use your card in those states without any problem at all. If you need to travel within the United States for work, family or pleasure, your EBT card can help you afford groceries wherever you are, which could bring some peace of mind during times when you are likely to have more expenses than normal.
Restrictions on EBT Card Use
EBT cards are intended to provide assistance with groceries, so they cannot be used on household items like laundry detergent, dish soap, paper towels and toilet paper. They also cannot be used for medicines or sanitary products, so you will need to budget for those items outside of your benefits. Keep in mind that you also cannot receive cash back for purchases made with your EBT card.
When you are traveling to other states, remember that Massachusetts-specific restrictions still apply. The National Conference of State Legislatures shares that Massachusetts imposes restrictions pertaining to:
Alcohol
Tobacco
Gambling
Lottery tickets
Guns
Adult venues
Stores Accepting EBT Cards
When you are shopping near home, chances are good that you have an idea of which stores accept purchases made with EBT cards. Often, stores will post a sign that clearly states that they accept EBT card purchases. However, things might be a little more confusing when you are traveling. The United States Department of Agriculture maintains a searchable database where you can easily enter any location and find stores nearby that accept EBT purchases.