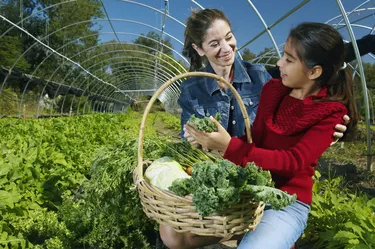 Iowa's food stamp program supports low income families by providing food assistance. This is provided through cash benefits issued by Iowa's supplemental nutrition assistance program, which implements the federal SNAP guidelines. SNAP applicants must have a household income at or below 130 percent of the federal poverty guidelines in order to qualify for benefits.
Meeting Eligible Income Guidelines
The federal poverty guidelines change annually. For the period of Oct. 1, 2014 to Sept. 30, 2015, an Iowa family of four must have a gross monthly income of $2,584 to be provisionally eligible for food stamps. Cash in the bank also is important. Applicants must have $2,001 or less total in all banking accounts. This amount is $3,001 if any member of the household is disabled or 60 years of age or older. Iowans can apply online for SNAP.
Using Iowa Food Stamps
SNAP benefits are put on to an electronic benefits transfer card, which is similar to a debit card. The card is used to purchase eligible food items at Iowa grocery stores, retailers and some farmers' markets throughout the state. Benefits are automatically loaded onto the EBT card every month. You can check your account balance online with your card information.
Eligible Purchases With Iowa SNAP
SNAP benefits may only be used for food purchases. Federal regulations restrict allowable purchases to breads, cereals, fruits, vegetables, meat, fish, poultry and dairy. You also can use food stamps to buy seeds and plants that produce food. Some consumable items are excluded, however, such as alcohol, vitamins and medicine. Gift baskets that include food may be purchased with food stamps as long as the value of the food is 50 percent or more of the total value of the basket.
Non-Eligible SNAP Purchases
Non-food items cannot be purchased with SNAP benefits. Even household necessities such as soap and household paper are excluded. The program does not allow the purchase of pet food or hot food to be eaten in-store, although prepared food meant to be taken from the store for consumption is allowed. Any drinks with a "supplement" facts label is excluded, although those drinks with a "nutrition" facts label are allowed.