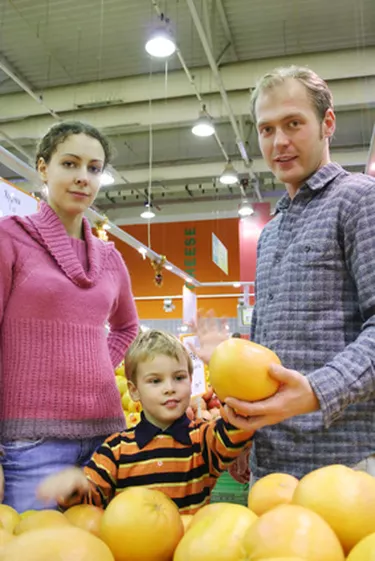 In 2010, the Oregon Food Stamp Program officially changed to the Supplemental Nutrition Assistance Program (SNAP) as part of a federally funded plan to assist low-income families with food purchases and nutrition education. SNAP income limits depend on your household size, age, income sources, assets and nutritional need. In addition to income limits, applicants must be U.S. citizens or qualified aliens living in Oregon.
Income Limits
Excluding categorically eligible individuals, your gross countable income cannot exceed 130 percent of the Federal Poverty Level (FPL). Additionally, your adjusted net income must be at or below 100 percent of the FPL. As of 2010, 130 percent of the FPL is $2,389 and 100 percent of the FPL is $1,838 for a family of four. Disabled individuals and adults age 60 or older are exempt from adjusted or net income tests.
Categorical Eligibility
Categorical eligibility excludes asset tests, raises income limits and eliminates adjusted or net income requirements for qualified applicants. You may be categorically eligible if your gross income is does not exceed 185 percent of the FPL and you receive an Information and Referral Services pamphlet. Individuals receiving or eligible for Supplemental Security Income (SSI), Temporary Assistance for Needy Families (TANF), General Assistance (GA) or other public cash aid programs may meet categorical eligibility requirements.
Income Deductions
Certain income deductions are made before determining food stamp eligibility. All households receive a standard deduction of $142 to $205 monthly. The first 20 percent of your earned income is also deducted. Qualifying households may also have a portion of child care, medical, child support, shelter and utility expenses deducted.
Assets
You may have assets or resources such as bank accounts or cash on hand valued at $2,000 or less. Households with disabled members or individuals age 60 or older may have up to $3,000 in assets. Not all resources are used to determine eligibility. Your home, a vehicle valued at $10,000 or less, personal items and some education or retirement accounts are excluded from asset tests.
Reporting Changes
You are required to report income and household changes to your social worker or the Oregon Department of Human Services. Time frames for reporting changes depend on your household status and SNAP eligibility factors. Failure to report changes may result in suspension of your food stamp benefits.