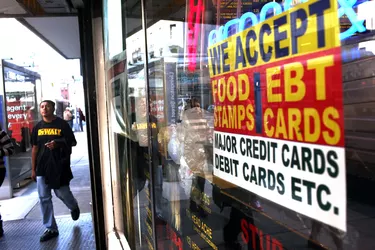 Louisiana's Department of Children & Family Services (DCFS) administers the state's Supplemental Nutrition Assistance Program (SNAP) and the Louisiana Combined Application Project (LaCAP), which helps low-income households buy food. Eligible beneficiaries receive Louisiana Purchase EBT Cards that have SNAP benefits deposited into these accounts. EBT stands for electronic benefits transfer, and the monthly allotment can be ​$35, $82 or $173​.
It is important to keep your Louisiana EBT Card in a safe place, but it can get misplaced or stolen. You can call LAHelpU's customer helpline at 1-888-524-3578 to request a new one. Do this as soon as possible, since it may have been stolen and someone else may attempt to use it. According to the Louisiana EBT Card brochure, you can also call EBT customer service at 1-888-997-1117 or contact your caseworker directly. It should take ​three to five calendar days​ to receive a replacement.
EBT cards are also called food stamp cards, and the 1-888-997-1117 number is printed right on the back of them. The front has the words "Louisiana Purchase" printed in yellow on top, with the words "automated benefit card" beneath it. Below that is the 16-digit Louisiana EBT card number and the beneficiary's name.
Applying for a Louisiana Purchase EBT Card
According to Benefits.gov, an applicant must be a Louisiana resident and have a current bank balance that is ​under $2,001​. Or, the applicant can have a bank balance ​under $3,001​ if they share their household with a disabled spouse, child or parent or someone over 60. Annual household income limits apply, and there is a chart on the website to help you understand the income requirements. As an example, the income limit (before taxes) for a family of two is ​$22,646​.
There are three different ways to apply for SNAP. The first is to visit a local DCFS office in person; the second is to call 1-888-524-3578. To save time, you can download and complete an application first. You can also apply online at the Louisiana CAFÉ Customer Portal, which saves making a trip to the DCFS. The application takes about an hour to complete. You can monitor your application status through the online portal – once the application is received, it takes ​30 days​ to receive a letter letting you know if you have been granted or denied benefits.
Using a Louisiana Purchase EBT Card
Once approved, the EBT Card can be used to buy selected foods at participating stores in Louisiana and other states. It can be used like a debit card at grocery stores, but you need to create a four-digit PIN and enter it when making purchases.
Those who qualify for cash benefits can use the card to withdraw money from participating ATM locations but be sure to know what your balance is each time you need to use the card and also save the receipts. New cards need to be activated before they can be used. To do this, call 1-888-997-1117. You will also be asked to create a PIN, which should be written down and kept in a safe place.
If you lose your PIN, just call that same help number for help. To keep on top of your EBT Card transactions, you can create an account on the EBT Cardholder Portal, which works in conjunction with Life in Check. You will need your EBT card number in order to register for an online account on the site. It is also good to know that there are never any fees for using the funds to purchase food, but you may be subject to ATM fees when withdrawing money from ATM locations.