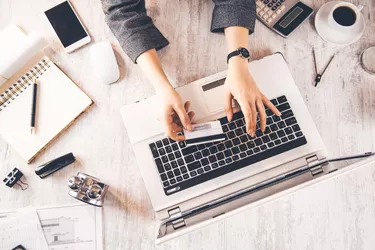 You rely on your SNAP benefits to buy the basics each week, but what happens if you lose your card? If your EBT card is lost or stolen, you'll need to call the hotline and follow the prompts to report the incident and have a hold put on future uses. The CT SNAP income guidelines 2019 limits the protection of your benefits in the time between your card being lost and reported, but any benefits used after you've reported it will be replaced.
EBT Card CT Replacement
If you've lost your EBT card in Connecticut, you'll need to call customer service for a replacement. Call 1-855-6-CONNECT (1-855-626-6632) and follow the prompts to replace a lost, stolen or damaged card. Once reported, a new card will be mailed to you and your previous card will be deactivated.
You can replace your SNAP benefits CT number multiple times, but after the fourth request in a one-year period, the Eligibility Determination Group will be notified and transactions associated with your account monitored. At that point, the Department of Social Services will look into whether fraud is present on the account.
Lost Cards and Unauthorized Use
The biggest danger in losing your EBT card in CT is that someone might use it to make purchases. Without your PIN, they shouldn't be able to do this, which is why it's imperative that you not keep your PIN with the card itself. If someone has both your card and your PIN, that person could use all your benefits.
As outlined in the CT SNAP income guidelines 2019, if your card is lost or stolen, any benefits prior to reporting that loss will not be replaced. That means as soon as you discover your card missing, you need to pick up the phone to call. Once you've made the report, the Connecticut Department of Social Services will replace any benefits that are used on your card from that point forward.
Inactive EBT Cards in Connecticut
Even if you meet the CT SNAP income guidelines 2019, if you don't access your benefits for 90 days, an automated notice will be sent to you asking if you're having issues with your account. You'll be given some suggestions for resolving the most common issues and asked to contact DSS if you need further help. If you aren't having problems, it's important that you get in touch with DSS as soon as possible to avoid losing access to your benefits.
After that notification, you'll still be able to use your benefits until your account is expunged, which happens after 365 consecutive days of inactivity. You'll have to get a new SNAP benefits CT number, going through the process again. Expunged benefits will be returned to the federal government and reabsorbed into the SNAP program.
Lost Food Replacement
If you still have your EBT card CT but you've lost the food you purchased with that card, you may be able to file to have those purchases replaced. This may happen if you go through a flood, fire, hurricane, long-term power outage or other unexpected crisis. If you meet the qualifications, you'll receive benefits equal to the cost of the lost food, maxing out at the amount of your last-issued monthly benefits.
To replace lost food benefits, file a report using your SNAP benefits CT number within 10 days of the loss. You'll be asked to submit a signed form called Request for Replacement of Food Purchased with SNAP Benefits within 10 days of your initial report. If your loss is due to a federally declared natural disaster, you'll receive instructions on how to get benefits under Disaster SNAP. Connecticut residents can't receive replacement assistance under both D-SNAP and the regular SNAP program.