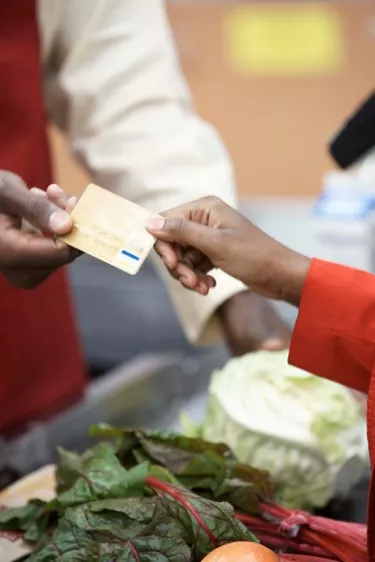 So you applied for food stamp benefits — also known as the Supplemental Nutrition Assistance Program, or "SNAP" — and got approved. A few days later a plastic card with your name on it showed up in the mail. It's the Electronic Benefit Transfer, or EBT, card, and it looks just like a debit card from your bank.
EBT Card
The EBT card replaces both the original blue and orange stamps of the 1930s and the paper coupons that lasted through 2003, according to the U.S. Department of Agriculture. The card — which looks and operates like a debit card — makes illegal activity much harder to accomplish. Stealing it is difficult, because you need a PIN number to operate it; and exchanging it for money or drugs is more difficult, because you need to be there when the other person makes the transaction.
Benefits
Each month, your food stamp benefit amount is deposited into your EBT account, according to the USDA. It's deposited on the same day every month, so you know when to expect it. How much you qualify for depends entirely upon your needs. Your income, assets and number of household members are examined to determine your allotment amount, which begins at a maximum of $200 for a one-person household and goes up by about $150 for each extra person in the home.
How do I Use It?
First, find out the benefit amount on your EBT card. You can go online to your state's EBT website, or call the number on the back of your card, to find this out. Then go shopping. You can buy any food item except hot cooked items meant to be eaten in-store. Use your card at the register the same way you would a debit card by swiping it and entering your Personal Identification Number.
Special Perks
Did you just purchase $50 worth of food? Not when you're using an EBT card. Since you're using a government-funded card to buy food, your purchase is tax-exempt. Because of that, the added tax automatically disappears from your total when you swipe your EBT card. Also, when you get your receipt, check the bottom. Your current balance is printed at the bottom to help you stay on track with your spending.