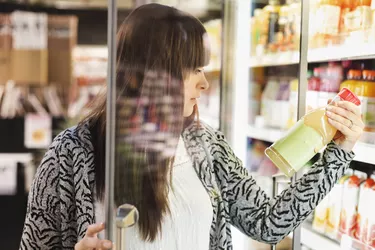 When you receive government assistance to help you pay for food, you're limited as to which products you can purchase with your benefits. While you can buy most basic food items at grocery stores, farmer's markets and other retailers with your food stamps, some items aren't acceptable. Reviewing what you can and can't buy with your benefits will help you avoid embarrassing situations at the checkout counter and make your trips to the grocery store smooth sailing.
Food stamps have been replaced by Electronic Benefits Transfer (EBT) cards, which hold your monthly Supplemental Nutrition Assistance Program (SNAP) benefits. EBT cards look and work like debit cards and credit cards. Low-income households can sign up for and receive benefits from their state, such as at its health and human services website. Once you've signed up for the program (you'll have to qualify), you'll receive a set amount of benefits per month on your EBT card, depending on your eligibility, income and how many dependents you have in your household.
In some states, you lose unused benefits after a specific time period (for example, 90 days). Your account might even expire if you don't use your benefits within a specific time period. Make sure to thoroughly review your state's SNAP website pages to learn how the program works.
Basic Spending Limitations With SNAP
In most states, you can spend your SNAP benefits on most food items, with others not allowed. The program is managed at the federal level by the U.S. Department of Agriculture, which provides these guidelines:
Food products you can buy include:
Meat, fish and poultry
Fruits and vegetables
Dairy products
Cereals and breads
Snack foods
Non-alcoholic beverages
Plants and seeds for growing food
Foods you can't buy include:
Wine, beer, wine, liquor
Tobacco products
Medicines, vitamins, supplements
Foods that are hot at the point of sale
Nonfood items like cleaning products, household supplies, pet foods, cosmetics, paper products and live animals
If items have been cooked or prepared in the store, such as fried chicken, soups, salads or sandwiches, you might not be able to purchase them with your EBT benefits. If you can heat frozen items in the store, like burritos and pizza, those might be ineligible to buy, as well. Some stores put stickers on food items to let you know they are SNAP eligible, such as hot food items that are ready to eat.
The No. 1 SNAP purchase made by Americans who are not on food stamps is milk. The No. 1 purchase made by Americans using SNAP benefits is soft drinks, according to USDA data. You'd think that these sugary drinks would not be eligible for purchase by people on government assistance, but beverage company lobbyists have convinced members of Congress to include them.
If you're going to buy juice, read the labels. Some juices are 100 percent fruit juice, while others contain less than 10 percent juice (they are mostly filtered water). While 100 percent fruit juice contains more vitamins, it also contains more sugar and calories, so read labels carefully.
In addition to soft drinks, you can purchase regular, chocolate, lactose-free, soy, almond and oat milk. Powdered iced tea mix goes a long way and can cost as little as 4 cents per serving. To get orange juice cheaper, look for the house brand frozen cans in the freezer section (you'll need to add water). You can probably buy bottled health drinks, like smoothies, but they probably cost more than if you made your own at home.
You can get twice as much food (and more) in some instances if you shop smart, explains Food Stamp Challenge. For example, generics cost much less than name-brand items. If you sign up for a grocery store loyalty program, you'll get automatic price discounts and free digital coupons. You might even get fuel points for discounts at the gas pump.
Look for weekly specials and buy-one-get-one-free deals, as well as manager's specials and closeouts. Many stores have a manager's special and closeout aisle or area in the store. Before you leave the house, check out Instacart to learn what different grocery stores in your area are charging for the same items. You can have foods delivered by some local groceries using your SNAP benefits, which will help you avoid using more expensive options like buying off Amazon.
You'll also be surprised to learn that not only are canned and frozen vegetables cheaper than fresh, but they are often just as nutritious (and sometimes more), points out AARP. Watch out for dollar stores, too. You often pay more for items like canned vegetables and soups because they only stock name-brand items which are more expensive than generics.