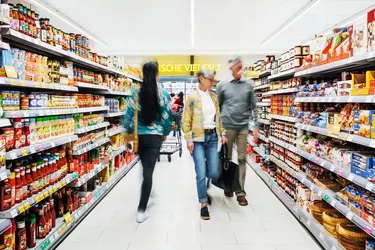 During the COVID-19 pandemic, many states and the federal government expanded SNAP benefits for college students, singles and families. However, you can be sanctioned, or lose some or all of your benefits, if you don't follow all of the rules for this program. Reviewing the dos and don'ts of using SNAP benefits (formerly called food stamps) will help you keep yours coming.
The Supplemental Nutrition Assistance Program is not intended to cover all of a person's food needs. It's a supplement to help people get extra food to help them meet their needs. That's why some people (those who earn some income) receive a very small amount of benefits each month.
The reality of the situation for many SNAP benefits recipients, however, is that their monthly allowance is often all they have for food.
Based on your age, income and other factors, you can apply for SNAP benefits. Based on your status, you can receive some or all of the amount of benefits your state offers. For example, in Georgia, the maximum SNAP benefit for a single person (based on income) is ​$204​. This amount goes down the more money this person earns.
When you apply for and receive SNAP benefits, you'll be issued an EBT card, which looks like a credit or debit card. You use this to pay for your groceries when you shop. Each month, if you continue to qualify for SNAP benefits, your card is automatically reloaded.
If you don't follow your state's rules for using your SNAP benefits, you can be sanctioned and lose access to them. Reasons for being sanctioned can include:
Refusing to cooperate with your state's work requirements
Falsifying information on your application
Falsifying weekly or monthly income numbers
Filing multiple SNAP requests/claims
Trading, buying or selling SNAP benefits
Quitting a job without cause
Purchasing (and/or selling) purchased items that don't qualify for SNAP purchases (such as alcohol or cigarettes)
Some states have a minimum sanction time period requirement. This means that even if you agree to start meeting your state's work requirements (to lift your sanction), you might still not receive benefits until after your minimum sanction period has ended. The length of a minimum sanction period might increase after your second, third and subsequent violations.
This is not always true for an entire family. If a parent, for example, is sanctioned for income-level reasons, her children might still be able receive their SNAP benefit amounts. In Massachusetts, an entire family loses SNAP benefits if the main party quits a job while in the state's Employment and Training program, or voluntarily quits a job for a third time.
Some reasons for getting sanctioned can include honest mistakes, such as mis-reporting your income because you weren't sure if a side-hustle payment needed to be reported in your weekly income declaration. Other reasons for sanctions, such as applying for SNAP benefits at two different addresses might be criminal offenses that result in fines and jail time, warns The Law Dictionary.
One way to get more food without spending more money is to use smart-shopping techniques, explains Can You Live on Food Stamps?. This includes:
Buying generic brands

Waiting for recurring sales
Signing up for store loyalty programs
Using digital and paper coupons
Looking for manager's specials (sales and aisle areas)
Taking advantage of BOGOs (buy-one-get-one-free)
Buying canned and frozen vs. fresh
Decreasing the use of prepared foods