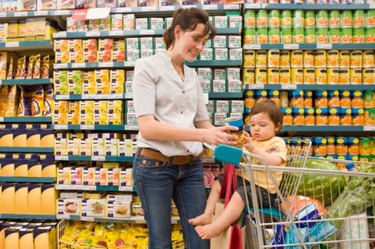 The Supplemental Nutrition Assistance Program (SNAP) program provides a monthly payment to eligible families and individuals for the purchase of food. This federal program distributes grants to states, which administer and enforce the eligibility, application, distribution and sanction guidelines. Participants must meet a number of requirements to continue receiving the supplement and receive a sanction, or penalty, for failure to comply. A sanction results in the loss of benefits for a specified period, and several situations result in a sanction.
Types of Food Stamp Sanctions
Applicants must meet a number of standards to receive SNAP benefits. The Food Stamp Employment & Training (FSE&T) program requirements, TANF training requirements and a voluntary quit or reduction in work hours can each result in a penalty, according to the United States Department of Agriculture. Penalties vary in length and severity,and each state has discretion over the severity of a final sanction.
Food Stamp Employment & Training (FSE&T) & TANF
The FSE&T requires applicants and recipients to register for employment through a designated authority at the time of application. Furthermore, applicants must participate in a workforce development or employment training program and accept suitable work when offered.
Requirements vary based on the household's makeup and status. For example, an unemployed applicant with children may be required to participate 40 hours per week in an approved program. The program may require class and job fair attendance and documented job search. On the other hand, an applicant attending an approved vocational program may have to submit documented job search on a weekly basis and proof of participation hours.
Voluntary Quit or Reduction in Work Hours
Applicants who voluntarily terminate their employment without good cause are subject to sanction or termination from the program. This rule also applies if an individual quits or reduces work hours 60 days prior to an application for assistance, according to the Ohio Administrative Code. Persons who quit a position for suitable or comparable work are not affected by the rule.
Sanction Lengths & Cures
The periods of sanction are one month for the first sanction, three months for the second sanction and six months for the third sanction. Some states, such as West Virginia and Connecticut, can permanently disqualify a recipient after the third sanction. During the sanction period, the recipient no longer receives benefits.
An individual can "cure" a sanction by complying with program requirements or submitting a new application if canceled. A sanction may also be lifted if a recipient becomes exempt from the requirements. For example, if a recipient becomes medically exempt from work requirements, the sanction is lifted.