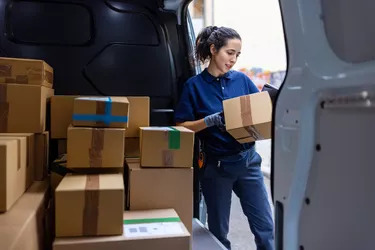 Thanks to the internet, it's never been easier to shop, and few sites have made shopping as convenient as Amazon. But unless you're home 24 hours a day, seven days a week, your packages will sit on your front porch, putting you at risk of package theft. Amazon Prime members can take advantage of something called Amazon Key, which ensures your packages are safely tucked away until you can grab them.
When Amazon Key launched in 2017, the setup was simple. Give Amazon customers a kit that they used to grant delivery drivers access to their front door. The driver then set the packages inside the door and locked things up again. But security concerns held the service back.
That's likely the reason the company recently launched Amazon Key In-Garage Delivery. With this service, you get a kit that links to the Amazon Key app, which allows drivers to open your garage door and deposit your packages inside. As long as the door to your house remains locked, this limits drivers' access to your home.
How Amazon Garage Delivery Works
To set up Amazon in-garage delivery, here's what you'll need to do:
Enter your ZIP code in the location finder to see if the service is available in your area.
Check to see if your garage door opener is myQ app-compatible. If not, you can purchase the Key by Amazon Smart Garage Kit.
Download the Amazon Key app from your mobile device provider's app store.
Choose Free Key Delivery at checkout to activate in-garage delivery.
Drivers scan the package and open the door, placing the package securely inside before closing it again.
Amazon Key and Car Access
Another Amazon Key option lets delivery drivers leave packages in your car. Instead of giving a driver access to a section of your home, you simply use the Amazon Key app to unlock your car remotely when it's time for a package to be delivered.
The only downside to Amazon Key In-Car Delivery is that it doesn't work with all car makes and models. You'll also need an active connected-car plan like OnStar or Volvo On Call to be able to use the service.
Smart Locks and Security Concerns
Consumers have understandably expressed concerns about issuing access to garages and cars, just as they did when the delivery was inside the front door. As with the original Amazon Key, the garage delivery service comes with a few extras to help ease those concerns.
The Amazon cloud cam is an optional security camera that lets you monitor deliveries. Additionally, a driver's location is confirmed before Amazon grants access to your garage. Lastly, the Key by Amazon Happiness Guarantee lets you file a claim within 30 days if anything about your delivery didn't meet your expectations.
Understanding that consumers are concerned, Amazon also takes extra steps to keep the process a safe one. Drivers must pass background checks to be approved. The Amazon background check looks at a driver's criminal background, searching for prior theft, violence and other crimes over the past seven years.
As convenient as these car and home delivery services are, you won't be able to receive all your packages that way. Delivery people can't leave packages weighing more than 50 pounds or measuring 26" x 21" x 16" in your garage or car. A package delivery that requires a signature also isn't eligible for Amazon Key.
Additionally, not all Amazon packages are eligible for Key. Any items fulfilled by a third-party seller are ineligible for Amazon Key. You'll still get home delivery of these packages, but they won't be left inside your home, garage or car.
You might not feel comfortable giving Amazon drivers access to your home, but your garage or car can be a great alternative. As long as you're eligible and willing to get the tools required, you can enjoy the peace of mind of knowing your packages are secure until you're ready to get to them.