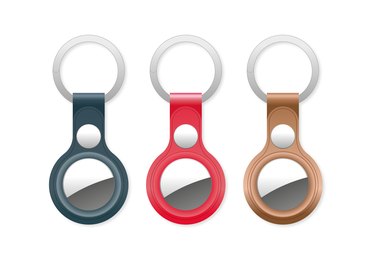 If you've ever lost your keys, your wallet or your luggage, you know the value of tagging your belongings. Apple AirTags are small, affordable tracking devices that let you find your valuables using your iPhone. But those same small devices could be slipped into a bag or pocket to track you, leading to privacy and security concerns.
In the spring of ​2021​, Apple unveiled a much-needed device for tracking lost items. With a diameter of only ​1.26​ inches, Apple AirTags are splash, water and dust resistant to hold up even on those items that go through some wear and tear. Best of all, the price is only ​$29​ or ​$99​ for ​four​, which is relatively low for Apple products.
AirTags can be slipped inside pockets or attached to items like keychains and backpacks. Once connected to your iPhone using Bluetooth, you can locate the tag, and therefore the connected item, at any time using the Find My app. As long as the tag remains attached to your item, you'll be able to keep track of it.
It's important to know what you can do to protect yourself and what actions to take if a tracking device is attached to your personal property without your consent.
As AirTags started to grow in popularity, certain privacy concerns began trending. The size of the AirTag gives it a low profile, making it easy to embed in your belongings so that if an item is stolen, the thief won't know there's a tag attached. But consumer safety experts warn that the low profile could make it easy for those with nefarious purposes to sneak them into your belongings and track you.
For its part, Apple has done what it can to prevent AirTags from being used to track people. If you have an iOS device, Apple's unwanted tracking feature will send an alert if an unknown AirTag is seen traveling with you for a period of time. Also, if an AirTag is separated from its connected owner device for a period of time, that device will send an alert.
Apple Unwanted Tracking Weaknesses
As handy as Apple's built-in features are, there are some flaws in the setup. Warnings are specific to iOS device owners, putting the many consumers with Android phones in a precarious position. In response to this concern, Apple created a Find My app for Android, but you'll have to download the app to be prepared.
Another weakness is the alert setup itself. Not everyone stares at their phone screens all day, so the pop-up could be missed. Apple updated the trackers to beep if the tracker detects it's been away from its owner too long, but this can take anywhere from 8 to 24 hours, which might not be quick enough.
AirTag Tracking and Legalities
When you purchase an AirTag and attach it to your items, you consent to allow that tag to be tracked. But if you use it to track someone else's movements without that person's consent, you could find yourself in trouble with local law enforcement. Apple cautions that law enforcement agencies may request information on unauthorized tracking devices, at which point Apple will turn that data over.
If, on the other hand, you find yourself on the other end of one of those tracking devices, there are some steps you can take.
iPhone users can open the Find My app and look for unknown accessories traveling with you.
Android users should download the Find My app from the Google Play store and look for unauthorized trackers.
Beeping trackers can be disabled. Hold your iPhone near the white section of the tracker and follow the instructions on your screen.
If you feel you were being tracked without your authorization, contact your local police department. They can work with Apple to gather information on the origin of the tracker and how it was being used. Punishment depends on local and federal laws.
AirTags are useful for keeping track of your valuables. But they can also pose a customer safety risk if used improperly. It's important to know what you can do to protect yourself and what actions to take if a tracking device is attached to your personal property without your consent.