Food assistance benefits are awarded to low-income households through the Supplemental Nutrition Assistance Program, known as SNAP. Benefits are no longer provided as food stamps, but are deposited onto a plastic card each month using Electronic Benefit Transfer (EBT). Although you can use your card at nearly every grocery and convenience store to make food purchases, your options for online orders are limited. At the time of publication, EBT cards can't be processed online. However, it's still possible to order food online and pay with your EBT card in-store or when your order is delivered.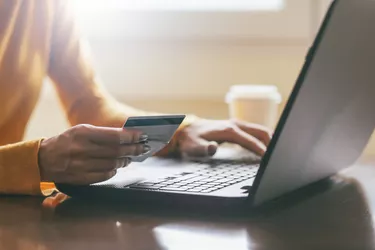 How EBT Works
Each state issues its own EBT card for SNAP benefits. If you're also receiving cash assistance through Temporary Assistance for Needy Families, the benefits are deposited onto the same card. The EBT looks and works like a debit card. You need to enter the Personal Identification Number (PIN) associated with your card at the physical point of sale. The USDA requires SNAP customers to pay for purchases at the "actual time and place" of the sale, which is a challenge for online retailers, since shipping can take several days.
In-Store Pickup
Websites that offer the option to order groceries online and pick them up in the store may accept EBT if online payment isn't a requirement. The USDA's Food and Nutrition website provides a list of participating SNAP retailers based on location. Contact your local neighborhood store that accepts SNAP to ask if in-store payments are accepted for online orders.
Walmart.com states that although it can't accept EBT for online orders, you can select "pay with cash" and use your EBT card in the store when choosing the site-to-store delivery method. Hannaford features an online ordering and curbside pickup service in Maine, Massachusetts, New Hampshire and New York. EBT customers need to go into the store to complete the transaction.
Delivery Services
Online grocery delivery companies throughout the country accept EBT as a payment method. You can check the USDA's FNS site for mobile grocery companies listed as SNAP providers in your area. The company must be equipped to process EBT cards from their its trucks. You'll swipe your card and enter your PIN, just as you would in a store.
Schwans operates in every state and accepts EBT when the order is delivered. FreshDirect is part of the USDA's EBT pilot program designed to test out online ordering. At the time of publication, it only accepts EBT for deliveries to certain Bronx zip codes. Safeway offers a grocery delivery service, but only accepts EBT for deliveries to customers with a disability. Customers using the service must call or email the company prior to placing an order.