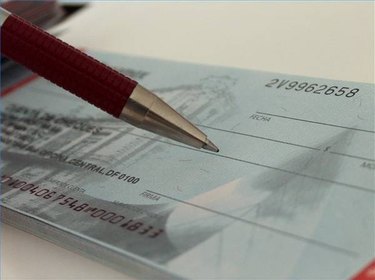 Checking accounts are a popular type of bank account that allows you to deposit money that is available for withdrawal at any time. Usually, you can withdraw money by visiting the bank, using a debit card or by writing checks. In this age of technology, many people choose to use debit cards most of the time. Some may not even own checks, but there are times when checks come in handy, such as when you need to write a check for your rent, for a down payment or for a utility company without web bill-pay options. Fortunately, it is very easy to order checks to use with your checking account.
Step 1
Ask your bank if they have free checks available to customers. If you have never had checks for your checking account before, many banks will cut you a deal and give you your first set of checks for free. Not all banks do this, but it is worth asking.
Step 2
Look online for places to order checks from if your bank does not offer them free of charge. You can often find checks for a better price online than through your bank. Compare prices and decide who has the best deal.
Step 3
Decide what design you want on your checks. Some people prefer a plain blue or green check, while others like personalized designs with cartoon characters, religious symbols or even family photographs. You will also need to decide if you want single layer checks or duplicate layer checks with a carbon layer that will help you to keep track of your spending.
Step 4
Fill out the online order form for your checks. You will need to provide the company with your routing number which is nine digits long and starts with 0, 1, 2, or 3. You will also need to provide the company with your bank account number. If you do not have this information, your bank should be able to provide it to you. You can also see if the information is available on bank statements you have gotten in the mail from your financial institution.
Step 5
Pick a check starting number. You may be tempted to start with the number one, but that might not be the best idea. Many stores do not accept checks with a number below 2,000, so you might choose to start with a check number like 3,000 to be on the safe side.
Step 6
Decide what kind of shipping to purchase and whether or not to put a rush on your order. If you need your checks quickly, you may be able to pay more to have the company print your checks sooner and also pay more for priority or overnight shipping. If you are not in a rush, the standard handling and shipping charges should be just fine.
Step 7
Review your checks when they arrive in the mail to make sure that your banking information, name and address are all correct. If they are not, the check printing company should replace your checks for free. Providing everything is correct on your checks, you are now ready to use them wherever they are accepted.