Creating checks at home is good way to save a little bit of money and to make sure you always have a check on hand. No matter how many checks you write, having to dispose of old checks after moving or changing banks is a hassle. In addition, when you unexpectedly run out of checks you can find yourself in a tough spot. By printing your own checks, it is easy to avoid these pitfalls.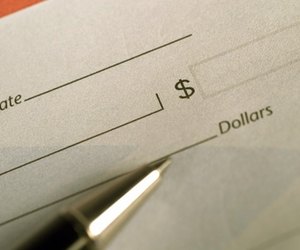 Step
Find a check printing program. Most office programs, like QuickBooks or Peachtree, have check printing built in. If you don't have one of these programs, then ezCheckPrinting offers both a free and reasonably priced pay version.
Step
Locate specialized paper and ink for your laser printer. These are easy to find online or in large office-supply stores.
Step
Record your banking information, such as your account and routing number and the full proper name of the bank.
Step
Print a single test check and compare it to a bank-printed check to look for errors.