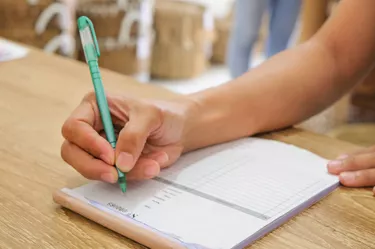 When you need to order Chase Bank checks for your savings or checking account, you can access the option through the Chase online banking portal. The bank partners with the check supplier named Deluxe.com to allow you to order customized boxes of checks without needing to enter your account, routing number or payment information. Chase doesn't require that you use their supplier, but doing so comes with some benefits in terms of security, quality and convenience. You may also consider alternative checking suppliers as long as you're aware of the risks.
Overview of Chase Bank Checks
Deluxe.com offers packs of 100 single or duplicate checks for Chase's checking and savings account holders. Using this official supplier can give you some peace of mind that your checks are accurate, secure and tamper-resistant, and Deluxe.com offers a satisfaction guarantee should something go wrong. Further, the provider offers a variety of designs alongside the basic Chase logo checks so that you can get checks that fit your tastes.
When you order Chase Bank checks through Deluxe.com, the cost simply comes out of the associated Chase savings or checking account. You don't have to worry about paying for standard shipping, and you receive the checks within two weeks. After you make your first check purchase, the site will save some order information to make the process go more quickly for future reorders.
Ordering Chase Bank Checks
You'll need to log in to your account through Chase to order checks. Once you've logged in to the Chase website, select your checking account from the left account menu. Locate the "Things you can do" list above your recent transactions and choose "Order checks & deposit slips." Chase will confirm that you want to leave their website to go to Deluxe.com.
You'll then see a page where you can customize your Chase Bank checks, starting with the "Check Imprint" form. There you'll enter your contact information that goes on the checks and click "Save Changes" to see a live preview of the check to the right. You can then proceed to select a check design – such as your favorite animal, character or holiday – from the gallery shown below the check preview. You can also change the font used on the checks, set a starting check number, set how symbols should appear and add a custom message.
Once you're happy with the check design, select whether you want single/wallet checks or duplicates, as well as whether you want one, two or four boxes of checks. You'll see a total for your purchase and can click "Confirm and Next" and then "Confirm and Checkout" to set your shipping information and place the order.
Considering Alternative Check Suppliers
If you want to save some money, Bankrate recommends considering buying your checks through an alternative supplier like Walmart, Checks.com or Costco. You can often get your checks for half price or even less through these other providers. Before choosing this cheaper option, though, you'll need to check out that the site is secure and has good reviews through the Better Business Bureaus. You'll also want to make sure that there are guarantees in case your checks have an error.
You can expect to do a little more work if you don't order Chase Bank checks through Deluxe.com. Other providers will require you to enter the routing number, account number, starting check number and possibly your account opening date. You might also consider opting for extra check security features offered, but Bankrate warns this can raise the price of checks considerately. Consider such drawbacks when deciding where to get your checks.