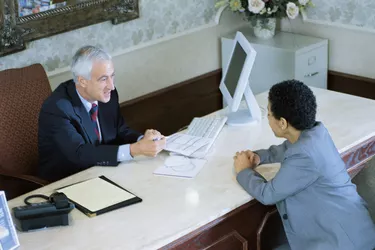 Bouncing a check can result in fees, even if you didn't write the check. In addition to the embarrassment, you can damage a relationship with a friend or business and possibly have restrictions put on your ability to make purchases or other payments.
Whether it's your checking account or someone else's, it's a good idea to know how to determine if a checking account is still open and whether a check you are writing or cashing will clear.
Just because you think you've closed your checking account doesn't mean it has been closed. If there's a hiccup that has caused the account to remain open, it can put your identity at risk from hackers if it remains open for years.
The easiest way to tell if your account has been closed is to call your bank. You'll need to provide information to identify yourself, such as your name, address, phone, Social Security number, PIN, account number and secret security question (such as your mother's maiden name).
If it's after hours, try to log in to your account if you had an online account set up, using your computer or phone and banking app. If your user ID and password don't work, that's a good sign that the account is closed. Just to be sure, call the bank when they are open again to confirm.
If you take steps to close your checking account, you should receive a snail-mail letter and/or email to confirm the account's closure.
If It's Someone Else's Account
You most likely won't be able to call a bank and ask if someone's checking account has been closed, but you can find out if the check you're holding is good, explains Consumerism Commentary. Call the bank that issued the check and tell them you need to verify a check. Some will let you do it in person but not over the phone. The bank will ask you for information such as the bank routing number, account number and amount of the check.
You might be able to verify if a check is good after hours by calling the bank and following touchtone prompts. For more security, call when you can speak to a human who can verify that the check is good.
Even if you verify a check is good, it can still bounce, however. That's because after you've verified that the check is good, the account owner might clean out or close the account before your check is presented. By the time you deposit your check, it is no longer good.
If you have deposited the check into your bank account and it bounces, you might have a returned check fee. If possible, go to the bank that issued the check in person and see if you can cash it (instead of depositing it into your account, which creates a lag time).
Frozen vs. Closed Accounts
If your bank sees suspicious activity associated with your account, it might put a temporary freeze on the account until it can talk to you. The bank might freeze the account if you're out of funds and you are bouncing checks over and over. You can also choose to freeze your account if you are worried about fraud.
The good news about frozen accounts is that you can still receive payments from others, such as an employer who is direct depositing your paycheck. If you receive payments from sources like Google AdSense or Amazon Affiliates and those go into your checking account, they will still get to you. If you have clients who pay you by direct deposit, ACH or wire transfers, or you use payment apps like PayPal, Cash App or Google Pay, your funds will still get to you.
Can Your Reopen an Account?
When you close a financial account such as a credit card or savings or checking account, it can be very difficult to reopen the account. You might have no trouble opening a new account, but trying to reopen the old account with the same account number (and the paper checks still valid) might not be possible.
If there's any chance you want to reopen the account later, ask the customer service representative if this will be possible at the time you are closing your account.