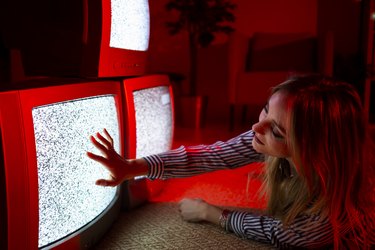 During the pandemic, our friends and family have kept us going in so many ways. The moral support, the funny group texts, the rare and responsible get-togethers all matter immensely, but perhaps the greatest of these is simple: sharing the password to a streaming account you don't have.
Cutting the cord and relying on streaming services like Netflix, HBO Go, and Hulu was supposed to free us from the onerous costs of cable bundles, all while directly supporting (sort of) the studios that make some of today's favorite television. If you really love ​Ted Lasso​, you can rest a little easier as you pay for Disney Plus, knowing that your money and your watch metrics are helping the creators stay on your screens.
There is one problem, though: We're generally only willing to spend about $40 on streaming services each month. And while we're happy to work around the streaming services by creating accounts on our friends' and sharing our own passwords freely, the platforms themselves are none too pleased with the lost revenue. This week, we learned that Netflix is testing a new feature that puts outside users on notice. Some viewers have found themselves facing a screen with the message "If you don't live with the owner of this account, you need your own account to keep watching."
This has been coming for a while; back in early 2019, one developer boasted an AI product that could sniff out password sharing. The world of streaming entertainment has always been rife with possible issues. It might be wise to start thinking about how much to budget for the services you use most.