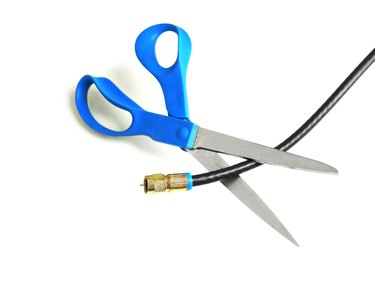 Cable television can be expensive. Now that streaming services like Netflix and Disney+ seem to have choice programming, chances are, you're probably paying for both cable and streaming services. You can eliminate cable TV altogether, but you'll first need to take a few quick steps to make the transition as smooth as possible.
You might be able to eliminate that cable TV bill, but the internet bill will stick around. If you're relying on your home Wi-Fi for all things entertainment, you'll have to invest in a top-tier internet plan with unlimited data. This is not an area to go cheap, especially if you'll be running TV and/or using the internet on multiple devices simultaneously.
As of 2021, some of the most popular providers offer varying internet speeds.
Keep in mind that these higher-tier plans can be significantly pricier than what's offered with basic plans. You may decide to try out streaming on your current plan, then gradually upgrade as you start to notice that performance isn't what you need it to be.
At one time, you needed a dedicated device to stream TV shows to your TV, but with today's Smart TV sets, that's not necessary. If you've bought an HDTV in recent years, chances are, there's a way to pull up streaming services. Look in your TV's menu under "Apps" to see what's available.
If your TV doesn't connect to your home's Wi-Fi, there are devices that can help. The TiVo Stream 4K will give you access to more than ​5,000​ Google Play apps, including Netflix, Amazon Prime Video, Disney+ and HBO Max. Roku is another device that easily connects to your TV to stream all the popular streaming apps.
With some careful planning, you can switch from cable TV to streaming services while still keeping your entertainment options.
Choose the Right Streaming Service
First, you'll need to determine when you can get out of your current cable TV contract. If you've signed on for a ​one-​ or ​two-year​ plan, find out what you'd need to do to buy your way out of it. You might decide to wait to switch until you reach the end of your subscription.
If you're free and clear to cancel your plan, don't call your cable service provider just yet. Take a complete inventory of the shows you currently watch, noting the cable channels that carry them. Many networks now push their new programming to their own streaming services. Hulu carries programming from all major networks, plus cable channels like Bravo and A&E, while you'll find most NBC streaming content on Peacock.
At one time, you'd have to buy an antenna to get local channels, but that's no longer the case. fuboTV, Hulu + Live TV, Sling TV and NewsON will help you get to the local programming you miss after cord-cutting.
Will you save money by cutting the cord? Chances are, you will. According to Consumer Reports, as of September 2020, the average monthly U.S. cable TV bill was almost ​$110​, which is ​$1,320​ you can slash from your budget each year if you make the cut. However, before you cancel your cable TV, make sure you aren't missing out on a bundling discount, or spending so much more on high-speed internet that it negates any savings.
Also consider the cost of all the streaming apps you need. Sure, you could get away with just Netflix or Hulu or Amazon Prime, but there will always be that one show that's only on one of the services you don't have. For instance, popular TV series like ​The Office​ and ​Parks and Recreation​ were long available on Netflix, only to be moved to Peacock when that service went live.
With some careful planning, you can switch from cable TV to streaming services while still keeping your entertainment options. The right equipment and subscriptions will save you money while also letting you catch all the best shows.