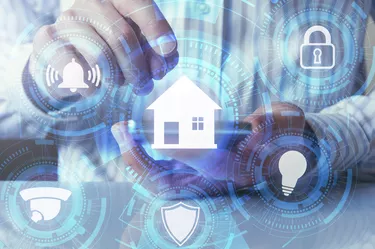 The word "ring" has been synonymous with home security systems since Amazon bought Ring Alarm in 2019 for a walloping $1 billion. The system comes with some nice bells and whistles. You can install it yourself, control it with a mobile app and it's appropriate for both single-family homes and apartments. Best of all, it's compatible with a few third-party devices as well as Ring products. Is your existing doorbell one of them? Yes…and no.
The Ring Alarm System ​is​ effectively a doorbell with various capabilities that your old run-of-the-mill doorbell doesn't share.
Let's say you're minding your own business at home when someone delivers a parcel at your door or presses your doorbell. The Ring Alarm System will notify you. Of course, your old doorbell can do that, chiming throughout your home. But it won't sound off simply because Chewy has delivered your pet food unless the driver rings your bell.
And what if you're not at home? Not a problem. The system will kindly send a message to your smartphone or tablet in either case, whether someone has pressed your doorbell or if the motion sensors have picked up on movement out there.
Your initial Ring Alarm System purchase is a security kit that includes the five basics of the system: a base station, keypad, motion detector, contact sensor and range extender. The base station is what makes the doorbell work. You get professional monitoring, LTE cellular backup and battery backup in case things really go south and you lose power...but you only get cellular backup if you buy a Ring Protect Plan.
Do You Need the Ring Doorbell?
Now about that doorbell. Your existing doorbell might have served you well for years, but a Ring version has a built-in security camera and two-way talk so you can chat with whoever's out there. You can view the video recordings later or again and again…but you'll need the Ring Protect Plan for that, too. You can only watch the camera footage in real time otherwise.
The Ring Alarm System can work as an indoor chime box, but this is a basic arrangement without any of the bells and whistles you'd have access to if you install a Ring Doorbell.
The Ring Alarm System makes the doorbell do all it can do to its fullest capacity. It effectively works with – and enhances – the doorbell you already have. But you can purchase a separate ring "Chime" that plugs into an electrical outlet and will sound off on its own.
Do You Need an Existing Doorbell?
Installing a Ring video doorbell when you don't already have an existing doorbell is doable, if not simple. You can go with the plug-in chime in this case. Otherwise, you'll need a plug-in transformer, and you'll have to connect your Ring Doorbell wires with those of the transformer. It's a manageably DIY process, but it will involve drilling a hole through your front door if you want to install the Ring device outside.
Unfortunately, you can't buy the Ring base station separately and simply hook that up to your existing doorbell or another one. You'll need one of their security devices and a subscription plan as well.
You can get away with a bare-bones Ring setup if money is tight. The chime box is just ​$29.99​ as of early 2022. But a Ring Video Doorbell will run you from ​$79.99​ up to ​$199.99​, depending on the system you choose. Ring.com indicates that you can take ​12 months​ to pay with no interest and no late fees if you qualify, so going with one of the doorbell packages doesn't have to be particularly prohibitive.
You'll need a Ring subscription. The basic plan is only ​$3 a month​, or ​$30​ if you pay ahead for the whole first year. This covers video recording for one doorbell, but it doesn't include professional monitoring. The Ring Protect Plus plan, which covers video recording for all devices at your home but still doesn't include professional monitoring costs ​$10 a month​, or ​$100 a year​ as of early 2022. It costs still more if you want notifications sent to the authorities, not just to your smartphone or tablet: ​$20 a month​ or ​$200 a year​.