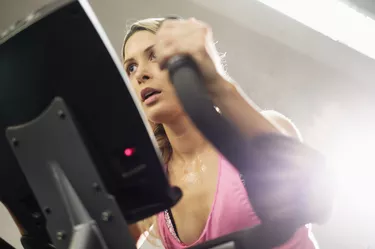 The Peloton Bike has its share of devotees, despite a cost that makes many people gulp, or at least blink twice. Peloton first launched its bike back in ​2014​, and the company went public five years later, in ​2019.​ Wirecutter calls the bike "a boutique indoor-cycling experience." But is it really worth all that money? As with most things, it comes down to your priorities.
The original Peloton Bike will cost you ​$1,895​. This jumps to ​$2,495​ for the Peloton +. You don't have to come up with the cash, however, or kill your credit card balance. Peloton offers interest-free financing. That $1,895 breaks down to ​$49 a month​ over 39 months, and the $2,495 price tag works out to ​$64 a month​. Delivery and assembly are included.
You get a 30-day free trial. Peloton will come pick up your bike and issue you a full refund in the event that you decide its bike is a dud. And it comes with a 12-month limited warranty. The bike frame is warrantied for five years, and you can buy an additional 12 or 27 months if you want to add a little to your investment.
Peloton offers two indoor bikes: the original, and the Peloton Bike +. The new and improved Bike + was introduced in ​2020​.
The original Peloton Bike comes with a 22-inch HD touchscreen, and a two-channel, 2x10 watt sound system with rear speakers. This ratchets up to a 24-inch HD screen with the Bike +, and the screen rotates 360 degrees, which can be convenient when you want to do non-bike exercises. As for that sound system, the Plus model offers four channels, 2x3 watt speakers, 2X10 watt woofers, two front-facing and two rear-facing speakers. It also comes with Apple GymKit integration and auto-follow resistance that adjusts your resistance to match whatever recorded class you're following at the time.
You're not buying a Peloton Bike to just pedal along by yourself. Those touchscreens are there to provide you with live and on-demand classes – literally thousands of them, available 24/7. You can select the type of ride you want, from endurance to low-impact to "feel good" trips.
You can even compete with other cyclists on a live leaderboard that records the wattage of energy you're putting forth. New live classes are provided weekly. They range from five to 60 minutes, and you can choose the music you want to go with them.
It Costs More Than Just the Price of the Bike
Unfortunately, all those classes and most of the interactive features come with an extra price tag. You'll need a Peloton All-Access membership to use the Peloton app, and this isn't included in the purchase price. But you can integrate the app with your phone, tablet, television or smartwatch. You're not limited to workouts only when you're at home and seated on your bike.
And no, you can't forego the membership. Peloton says that you're "required" to purchase it when you buy the bike. It will cost you an additional ​$39 a month​.
The Peloton Bike and Bike + come with hefty price tags. Are they really worth the money? On one hand, that membership fee is less than – or at least comparable to – what you'd pay to get your cycling in at an away-from-home facility. But time is money, so you'd have to incorporate the costs of travel time to and from the facility, and cycling studios generally aren't available 24/7.
And, of course, the bikes become virtually worthless if you can't access the Peloton app, and that could conceivably happen if the publicly-traded company ever goes out of business.