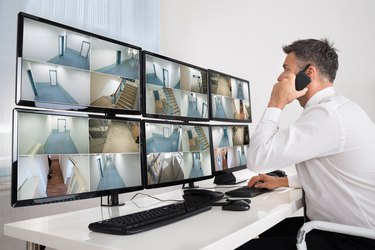 Having a smart home is both convenient and safe. This is especially true if your smart home has a home security system. It is a simple and often economical way to secure your premises and protect your family.
There are many services available that you can DIY. One of those services is Ring. But does a DIY security system like Ring Alarm System provide professional monitoring?
Ring Home Security System
Ring was originally called Doorbot. It was a Wi-Fi-enabled doorbell. Doorbot allowed owners to see through video and talk to people at their door. Founder Jamie Siminoff offered this home security system to "Shark Tank" investors in 2013. But he was rejected.
In 2018, Amazon purchased Ring. It is now valued at $1 billion.
With Ring, you can take advantage of professional installation or go the DIY route. It's a simple security system that is relatively inexpensive when compared to similar systems like Simplisafe and ADT.
Self-Monitoring Ring Protect Plan
The Ring Protect basic plan has an entry-level price of $3 a month or $20 a year and is self-monitoring. A Ring app for your mobile device lets you monitor the system. It allows local video storage for up to 60 days. No contract is required, and you can cancel at any time. Considering that most competitor plans charge a $30 monthly fee for self-monitoring, this is economical.
Professional Monitoring Service an Option
Ring Protect Pro provides a 24/7 professional monitoring plan. This monitoring notifies emergency services that you need help. One of the special perks is Ring Protect Pros Wi-Fi backup if there's an outage. This gives you peace of mind in case there's an emergency when the Wi-Fi network is out. So whether you're home or away from your house, your Ring Protect Pro provides you with backup internet.
Other perks included in the Ring Protect Pro are Eero secure and Amazon Alexa Guard Plus.
Eero helps protect online activity as well as block ads. Alexa Guard Plus is a subscription service that expands emergency services and works with Ring.
Alexa Guard Plus enables added security. All you must do is say "Alexa call for help" and you connect with emergency services. It also integrates with other Ring security systems. It can also play dog barking sounds if the motion devices are activated. In addition, the Amazon Echo will detect noises that sound like a break-in. For instance, it responds to sounds like breaking glass.
The Ring Protect Pro starts at a $20 monthly fee or $200 per year.
Ring offers a standard pre-designed security package. The base package ranges from five to 14 pieces and starts at $199.99, which includes:
Base station
Two motion sensors
Two keypads
Eight contact sensors
Range extender
Carbon monoxide detector
This basic package is for homes that are 1,000 square feet or smaller. But the package can be scaled to different homes' square footage. And there is an option to expand the kit with additional equipment. The basic package comes with a one-year warranty.
Ring Protect Pro Provides a 24/7 professional monitoring plan.
Ring Additional Ring Products
Ring devices that work with both the Ring Protect plan and the basic Ring plan are all-encompassing. But the add-on equipment does come at a price. For example:
Floodlight cam - $249.99
Yale Real Living Assure Lock SL with Z-wave plus
$199.99
Panic button - $39.99
Schlage Connect smart deadbolt, Z-wave plus enabled - $199.99
Ring also sells four wired doorbell cameras and numerous other home security cameras. These come with a high-definition video recording.