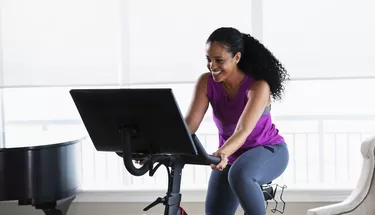 Unless you never turn on a TV, you probably have seen an ad for Peloton bikes by now. The commercials make them appear so fun and motivating, but this isn't standard exercise equipment. You'll pay much more for a Peloton than you would for a traditional stationary bike, and for some, the extra expense won't be worth it.
Peloton started as a stationary bike with a touchscreen. The screen lets you stream workouts that simulate the experience of being in a class. You can video chat with friends during workouts to create a more interactive experience.
In addition to its signature bikes, Peloton also sells treadmills, called Peloton Tread or Peloton Tread+. Through the Peloton app, you can even attend fitness classes with the same social aspects as the bike and treadmill. Peloton classes include cardio, yoga, meditation and walking.
Total Cost of Peloton Bikes
Before you can decide whether or not a Peloton Bike is worth it, you'll need to know exactly how much it costs. Prices for the Peloton Bike start at ​$1,895​, while the Peloton Bike+ starts at ​$2,495​. The Peloton Bike+ offers a larger touchscreen, better audio, a rotating touchscreen and the ability to have resistance automatically adjusted for you during your workout. You can split these totals into monthly payments.
But what you pay for the bike is only part of the total cost. You'll have to pay for a membership to access the classes, which is pretty much the reason you'd pay so much for an exercise bike in the first place. The basic digital membership costs ​$12.99​ a month, but if you want advanced features like performance metrics and a wider variety of classes, you'll need to upgrade to the All-Access Membership, which costs ​$39​ a month.
Peloton Versus Gym Membership
If you're choosing between a Peloton Bike and a gym membership, saving on the cost of a gym membership can be a big decider. At ​$1,895​, the cost of the bike is ​$158​ a month for the first year. But the bike will last more than a year, so that savings stretches out, even with the ​$12.99-$39​ monthly membership cost.
But a gym membership won't cost you much more than the monthly access fee for Peloton. A survey by RunRepeat found gym memberships averaging between ​$31 and $44.42​. So you may decide it's worth it to skip the commute and work out when it's convenient for your schedule, rather than staying within the hours the gym is open and not crowded.
Peloton Versus Other Home Options
A Peloton Bike isn't the only way to work out at home. In fact, you can find free workout classes online or pay a small monthly fee for cardio and strength classes. A few small weights and a yoga mat may be all the investment you need. You can even find internet-connected stationary bikes for several hundred dollars cheaper.
But there are also other exercise equipment options. A standard stationary bike is not only much cheaper, but also has a higher ease of use than a Peloton Bike. You can also find lower-tier treadmills and weightlifting setups that are cheaper than what Peloton charges.
The biggest consideration for any workout investment is whether or not you'll use it. For some people, a high payout and monthly membership fee provide an incentive to work out every day. Others probably know that even with a huge upfront payment, they'll lose steam after a few weeks of giving it their best effort.
The best thing about workout equipment like the Peloton Bike is that it gives you flexibility. You can work out whenever you want without sacrificing the social aspect. In fact, being able to video chat with friends may prompt you to show up every day when you wouldn't otherwise.
Whether the high cost of a Peloton Bike is worth it depends on your own fitness goals. If the setup will keep you on course with your daily workouts, it might be worth it for more than financial reasons. But there are less expensive ways to get a daily workout at home, so shop around and look at all your options before purchasing.