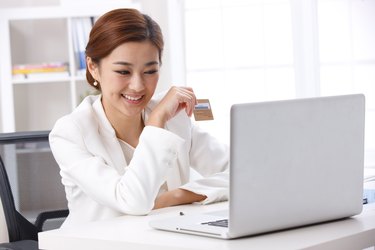 Amazon boasts of reaching hundreds of millions of customers, and by selling your stuff on the site, you can tap into that audience. Individuals are limited to selling items in certain categories, including electronics, musical instruments, books, kitchenware, toys and games, and sports equipment. Start selling your stuff by creating an online individual or professional account.
Selling Plans
Register for an individual selling plan if you plan to offer just a few items a month. At the time of publication, individuals don't pay monthly subscription fees and pay just 99 cents per item -- along with any applicable referral fees and closing fees related to media products. Choose the professional plan if you intend to offer 40 or more items monthly. Current professional subscription rates are $39.95 per month, with certain other fees depending on the items sold. As a professional, you can sell your stuff in a wide range of categories, including many that are not available on an individual plan, including fine art, luggage, wine and collectibles.
What You'll Need
When setting up an account, you supply Amazon with your name, address and contact information, along with a valid credit card number and tax identification number. When your registration is complete, you can access Amazon's Seller Central site, which helps with account management and other support systems.