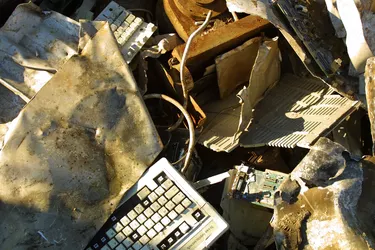 A landfill, either public or private, accepts refuse for a charge known as a tipping fee or gate fee. This charge varies from one landfill to the next and also varies according to the material which is dumped. For public landfills, the tipping fees depend on rates set by the governing public authority.
Private Landfills
A private landfill sets its tipping fees based on competition and supply and demand; the more landfill area available, generally the lower the rates are going to be. For that reason, landfills in western states -- where landfills are more numerous and customers less so -- tend to charge less. Landfills in the northeast, by contrast, charge the highest rates in the country. A recent survey conducted by Waste and Recycling News found a top tipping rate of $105.40 a ton in Massachusetts, and the lowest rate in Idaho, at $18.43 per ton. Landfills in Arizona, according to a chart offered by Green Power, Inc., charge an average of $33.05 per ton.
Using a Landfill
Public landfills are open to waste disposal companies as well as private businesses and residents. To dump at a landfill, you must have your vehicle weighed at a scale house. Your contents will be inspected for hazardous or banned material and the staff will direct you to the "tipping face" where the patrons are currently unloading. The landfill will also offer a wheel-washing service, which prevents toxic materials and garbage from being tracked out on the public roads.
Banned Material
Some materials may not be dumped in a landfill. Both private and public landfills will make available sites to dispose of motor oil, paint, batteries, tires and drywall. There may also be a recycling station for glass, plastic, and paper. Hazardous and toxic materials are controlled by local ordinance and state laws, and are typically handled by private contractors. There may be an incinerator on site for the disposal of hazardous and other non-landfill materials, which will incur an additional charge.
Fee Charts and Special Charges
Landfills will further break down tipping fees according to the nature of the waste material. As of October 2013, the Des Moines Regional Waste Commission, for example, charged $48 per ton of mixed garbage; $42 per ton of demolition waste; $24 per ton of clean wood waste and brush; $20 per ton of scrap metal and $2 per battery. The landfill may also have separate areas for inert material. The Cinder Lake Landfill in Flagstaff, Arizona, for example, includes a Dry Lake Inner Pit for cinderblock, dirt, rock and clean concrete, as well as areas designated for Green Waste (tree limbs, logs and stumps) and Wood Waste (lumber, plywood, particle board and pallets).