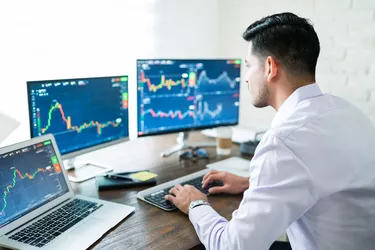 There are many reasons people choose to day trade. Some people enjoy the challenge and the potential income, while others find it to be a more exciting way to make money than traditional forms of investing. Still, others believe that day trading is a lucrative way to make a living. Whatever the reason, some people will always be drawn to day trading.
A day trader is an individual who trades stocks, bonds, commodities or other financial instruments in the stock market within the same day. Day traders typically buy and sell financial instruments multiple times throughout the day. They do this in order to take advantage of short-term price changes.
Day trading is a risky activity. Day traders can easily lose a lot of money in the stock market if they don't know what they're doing. For this reason, day trading is not suitable for everyone. People who are successful at day trading have usually spent a lot of time learning about the markets. They have also developed a solid understanding of risk management.
Forex is the market where currencies are traded; it is the largest and most liquid market in the world. However, it is also the most volatile. Currency prices are always changing due in part to the continuous 24-hour trading in the forex market. Day traders can take advantage of these price changes when trading stocks to make profit.
Day traders need to understand market trends, identify opportunities and manage risk. These skills can be learned through experience, education or both. Day trading is not a good profession for beginners, as day traders make a lot of important decisions throughout the day that only a professional trader can fully understand.
There are no formal education requirements for day trading. However, many day traders have at least a bachelor's degree. Some day traders also have experience in the financial industry, which can be helpful. Awareness of financial analysis, market analysis and risk management is essential for day traders.
Some day traders also have experience in the financial industry. This experience can be helpful because it gives the day trader a better understanding of the markets. However, having experience in the financial industry is not necessary to be a successful day trader.
There are no certification requirements for day trading. However, some day traders may choose to get certified in financial planning or investment management. These certifications can help day traders to improve their skills and knowledge.
In the past, day trading was typically done only by professional investors and institutions. However, with the advent of online brokerages and other technology, day trading has become more accessible to the average person. This has increased the number of people who are day trading.
Most day traders work at home. To start working in this field, you only need a computer.
Job Mobility and Career Growth
The income of a day trader can vary greatly depending on several factors, including the trader's experience, the type of trading they do, the markets in which they trade and the size of their account. A day trader with several years of experience can earn a much higher income than a novice trader. Similarly, a day trader who trades in multiple markets (e.g., stocks, futures or forex) can expect to earn more than a day trader who only trades in one market. Finally, a full-time day trader with a large account size can expect to earn more than a day trader with a small account size.
In general, though, the average income of a day trader is likely to be somewhere between the national average of $30,000 to $150,000 per year based on data collected from a number of job sites. Of course, the average day trader salary is a wide range, and many factors can affect a day trader salary. Sites like Zippia claim that a day trading salary is ​$118,912​ on average, while Indeed states it is ​$81,843.​ But when all potential income sources for day traders are considered (commissions, profits from trading, interest on account balances and so forth), this average salary is just a guess. There is no base salary for day traders, and the volatility of the market plays a large role in how much a day trader can earn.
Of course, it is important to remember that not all day traders are successful regardless of the day trading strategy they use. Many day traders end up losing money. So, while the income potential of day trading is certainly high, it is essential to be realistic about the amount of money you might lose in a single day as a professional day trader.
The number of day trading jobs may grow or shrink based on economic changes. Since day trading is typically not a W2 position but instead is a self-employed position, it isn't easy to pinpoint how many people will choose to day trade in the future. It also isn't a job title you can easily look up on sites like Glassdoor and get reliable information, as having a trading account is not the same as working for professional trading firms or hedge funds in the financial markets.
While the number of day traders has increased in recent years, it's still a relatively small percentage of the overall population. So, while there may be some growth in the number of day traders in the future, it's unlikely to be significant.
Overall, the income of day traders will probably continue to be primarily determined by the same factors as today: experience, market conditions and account size. While there may be some slight changes in the industry over time, analysts don't expect any major shifts that would dramatically affect the income of day traders.