Although many experienced life coaches don't have a coaching degree or certification, some decide to pursue formal coach training to advance their knowledge and impress potential clients. One problem with life coach training though is that many programs claiming to be legitimate are scams -- diploma mills designed to trick people out of money, or personal information that can be used for identity theft. Whether you want training, or you're already trained and seeking a program to join as a teacher, you can avoid becoming a victim by learning how to recognize scams and research a program's or coach's background.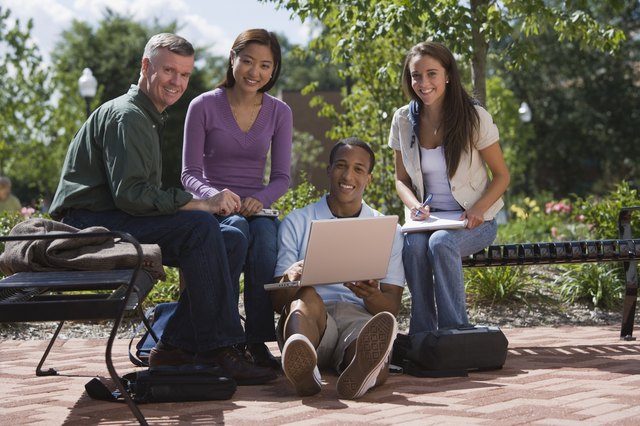 credit: Jupiterimages/Comstock/Getty Images
Step
Watch out for program red flags that indicate you're probably dealing with a scam. For example, reconsider offers that include statements that you can receive a degree or certification based on your life or work experience and resume content with little to no attendance, coursework, examinations or coaching hours required. Legitimate programs usually take up to a year or longer to complete and require a number of classroom and student-coaching hours. Other flags include missing contact information or the use of post office boxes for an institution's main address. Look for spelling and grammar mistakes, statements that you must "act now" or lose the opportunity and promises to send you a cashier's check, if you're a trained coach, before you start working.
Step
Go to the U.S. Department of Education Database of Accredited Postsecondary Institutions and Programs page and click one of the database links offered in the light green box to check whether you're dealing with a coach training program offered through an accredited institution of higher education. Additionally, check on the Council for Higher Education Accreditation Database of Institutions and Programs Accredited by Recognized United States Accrediting Organizations page by clicking the "I Agree" button and following the onscreen instructions.
Step
Check if the United States Department of Education has approved of the agency that a program or institution claims recognizes it as an authorized source for life coach training. Go to the ED.gov Accreditation in the United States homepage and use the links in the table of contents to see lists of recognized accrediting agencies.
Step
Investigate a business offering life coach training to see if it is real and has received positive reviews from past students or coaches. Check its status with the Chamber of Commerce in the region where the business is headquartered, the Better Business Bureau and the state's Attorney General's office. Contact a coach's work and academic references and confirm that he has received an education in and has field experience with life coach skills, including program management, positive psychology, active listening, problem-solving, verbal communication and motivational speaking, goal setting and career development.