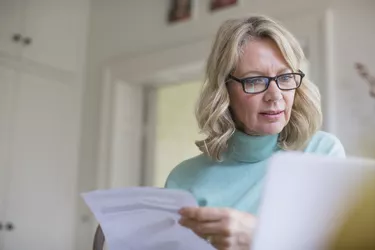 Claimants for unemployment insurance benefits in New Jersey apply through the state's Department of Labor and Workforce Development. After filing a claim for unemployment benefits and allowing for processing time, you can check the status of your claim to learn if it has been approved or denied. You can also learn if there is a problem with your claim or receive instructions about appealing an unfavorable decision.
Online Claim Inquiry
Use New Jersey's online Claim Inquiry system through the Department of Labor and Workforce Development website to check the status of your unemployment insurance claim. You can use this method whether you filed your claim by telephone or online.
Visit MyUnemployment.NJ.gov, click on "check claim status" under the menu button labeled "If you already filed a claim." Enter your email address, which is your user name, and your PIN number, and follow the prompts. If you do not have an online account, you can create one from this page. The system also allows you check your weekly benefit amount and monitor your claim as long as you receive benefits.
Telephone Claim Inquiry
Call one of News Jersey's Claims Inquiry Centers and speak to a claims agent. In-state claimants call one of three numbers: 201-601-4100 for North New Jersey; 732-761-2020 for Central New Jersey; or 856-507-2340 for South New Jersey. Claimants who live out-of-state call 1-888-795-6672.
Call the Inquiry Center 24 hours a day for automated information. If you need to speak to a claims agent, call during normal business hours: Monday through Friday, 8:30 a.m. to 4:30 p.m., Eastern Standard Time.
Walk-In Claim Inquiry
Visit one of New Jersey's One-Stop Career Centers to check the status of your unemployment insurance claim in person. The Department of Labor and Workforce Development website provides a searchable list of One-Stop Career Centers. Find the location near you offering unemployment insurance services by selecting your county and town from the drop-down lists. You will need identification to receive information about your claim.
Identity Verification Process
If your claim is approved, you will not receive benefits until you have completed the requirements for New Jersey's Identity Verification program for unemployment insurance claimants. During the claims process, you may choose to participate in the program. If you choose not to participate, you can still complete the filing of your claim. However, you will have to verify your identity in person at an unemployment insurance office before benefits are paid to you. You should receive a letter explaining where to report and what to bring to verify your identity.