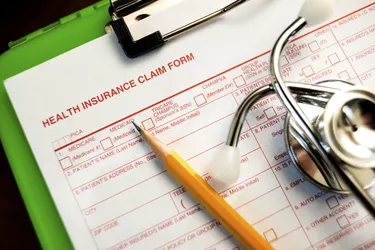 Claim forms for Medicaid -- a health insurance program for low-income individuals that is regulated by the federal government and administered by each state -- are usually submitted by health care providers. In certain cases, you can submit a claim form on your own to get reimbursed for medical expenses you pay that Medicaid covers. State rules for processing payments to health care providers and reimbursement to Medicaid beneficiaries differ and are complex.
Meeting the Filing Deadline
You can submit a claim form to Medicaid if your health care provider does not participate in the Medicaid program. Medicaid must receive claim forms within a required time frame; therefore, you can file a claim if the provider does not file a claim for a medical service or supply you received. Deadlines to submit Medicaid claims vary by state, and your state's Medicaid program may not pay late claims, so be careful not to submit a claim after the filing deadline.
Requesting a Claim Form
In states that accept them, you can call or visit your local Medicaid office to request a paper claim form to fill out. If your state has a Medicaid website, you may be able to download a claim form to print. Since each state has different rules for filing Medicaid insurance claims, you need to be clear on the instructions. Get clarification for any information a form requests that you don't understand.
Properly Completing a Claim Form
Medicaid requires complete information to process your claim form. If you don't enter all the information a form requests, Medicaid may reject your claim, and you will have to resubmit it. Although most states' Medicaid programs accept the 1500 claim form format developed by the National Uniform Claim Committee for submitting medical claims, contact your state's Medicaid office to learn more about specific requirements.
Providing the Necessary Information
When completing your claim form, provide the dates of service and date of injury or onset of illness. Give the name of the referring physician who ordered or supervised the medical services you received. Along with your Medicaid ID number, you will need to enter the national provider identification number and service code, which you can get from your state's Medicaid office. Your health care provider or medical supplier can assist you in providing the diagnosis and procedure codes the claim form requires.
Choosing a Claims Submission Option
Once you've completed the claim form correctly, submit it by mailing it to the address for the state's Medicaid claim processing unit provided on the form. Keep a copy of the claim form for your records. Send it by certified mail if you want a receipt as proof the claim form was delivered. Some state Medicaid offices allow you to fax or email a signed copy of your claim form. Others offer the option of submitting your claim online.