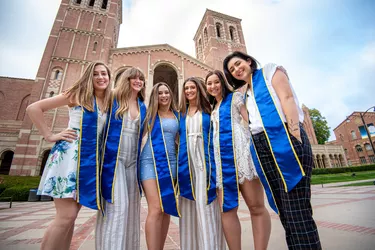 Many financial advisors laud efforts toward graduating college without debt. However, it may not always be a student's best option. After all, the U.S. Department of Education makes student loans accessible for a good reason. There are absolutely downsides to graduating college without debt. Aspiring students need to accurately weigh their options and decide the best way to fund their education.
Cons of Graduating With No Debt
If your family has ample financial resources, you may have an easier time finishing college without debt. However, sometimes accruing college debt isn't as bad as it seems when considering the sacrifices you might have to make to avoid them. The first thing to consider is where you want to attend college. As the experts at Federal Student Aid note, some of the best schools in the country have the most expensive cost of attendance. To graduate debt-free, you may need to attend a lesser-quality school, which could adversely impact your future employment opportunities.
For many college students, the experience of living on campus with their peers is part of the maturing that takes place during these years. However, you may need to live at home or in less expensive circumstances to avoid loans. You may also need to make considerable sacrifices in your lifestyle to save money and put more resources toward your tuition.
Perhaps most importantly, graduating without debt can necessitate significant sacrifices to your education. You'll most likely need to work while in school, taking time and attention away from your studies. You may not graduate with the proficiency you need, or it might take longer to graduate, delaying when you can move into your desired career.
How to Graduate College Debt-Free
Still, the appeal of graduating college without debt is alluring. If possible, you will want to get your family in on it by building up savings that you can use to pay your tuition and expenses. To achieve this considerable accomplishment, you'll need to start planning early.
To leave college debt-free, you'll want to make money one of the top factors in your major decisions, including where to go to college, where to live and how many classes to take. Attending an in-state public school is the best way to reduce college expenses, but some drawbacks come with that, too.
In addition, you'll want to start applying for scholarships and grants as early as possible. It will take a lot of time to find and apply for as many scholarships as possible. You'll want to remember that your expenses will also include books, transportation, food and more beyond tuition and fees.
Funding Your Education in Other Ways
There are other ways to fund your education, such as the FAFSA, but for that, the experts at Federal Student Aid note that you'll need to meet specific eligibility requirements. If you're an athlete or artist, consider seeking a scholarship for your talents. Sometimes, employers like Starbucks help offset education costs for their long-term staff. In addition, you'll want to look into Public Service Loan Forgiveness programs. If you plan to work in these fields, taking loans may be more palatable.
You should be aware that working your way through college may not be possible these days. Most part-time jobs don't pay enough to cover all college expenses, and working full-time while attending school is very challenging and requires a lot of self-discipline, along with a flexible level of scheduling.
Of course, the thing you want to avoid most of all is getting to the point of having student loans, no degree. Graduating with debt is better than not graduating. Regardless of your economic situation, create a realistic plan to graduate in a reasonable timespan. Work with advisors at your college and be honest about your circumstances.