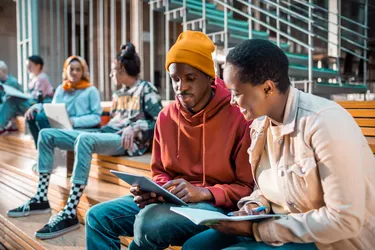 The decision to return to school is never made lightly, especially when you haven't finished paying for previous years of education. It's even more complicated if you need to learn about going back to school with defaulted loans. Luckily, you can take steps to get in good standing with student loans and pursue your academic and career goals.
Going Back to School With Unpaid Student Loan Debt
The good news is that if you have made regular payments on your student loans and they're in good standing with your servicer, you won't have any trouble going back to school or taking out additional loans to pay for it. Since school is expensive and time-consuming, you can defer payments on your unpaid student loan debt while enrolled in school full time. You will need to contact your loan servicer to get the details of its procedure. Then, you should contact the registrar at your new college and have them send the appropriate documentation.
While your loans are deferred, interest may still accrue and may even amortize. Your deferment period will not count toward any loan forgiveness programs. For information about how the deferment period during COVID-19 affected the loan forgiveness program, you'll want to check the resources provided by Federal Student Aid. You will be given a six-month grace period after leaving school before resuming payments on your loans.
How to Go Back to School With Defaulted Student Loans
Colleges and universities don't typically run credit checks. You don't need to worry about your defaulted loans if you can afford to pay your tuition and fees without taking out any financial aid. However, if you'll be depending on student loans to pay for school or to live while earning your degree, you'll need to deal with defaulted loans before reapplying.
In either case, the best thing to do for your education and your credit is to repair the issues with the student loan debt. If you're wondering how to get in good standing with student loans, start by contacting your loan servicer. Who should you call about defaulted student loans? Check your most recent statement or log in to your online account for a customer service phone number.
When you are speaking with a representative, it's best to tell them you intend to return to school and have them walk you through your options. Your two best bets will be to rehabilitate your loans or consolidate them. You can get on a rehabilitation repayment plan, and as long as you make on-time payments for nine or 10 months, your loans will come out of default. Consolidating your student loans involves combining them into a single loan. You'll be down to one interest rate and will make only one monthly payment by consolidating. For more information, you'll want to speak with your loan servicer.
Loans to Go Back to School for Adult Learners
The good news is that adult learners may have an even easier time paying for their education than their younger classmates. According to PennState Student Aid, Americans can hold up to ​$138,500​ in debt from the Department of Education at a time. Even if you already borrowed that amount, you can borrow more if your loans are paid down or are completely paid off.
If you're an adult student and you're struggling with paying for college when you go back, you may also want to consider other options for funding your education. If you've already entered the workforce, note that some employers offer partial or full tuition reimbursement. Adults may also consider borrowing from or against a retirement plan or other asset. When determining whether a student loan is right for you, remember that the lower the interest rate and fees over time, the better your situation in the long run.