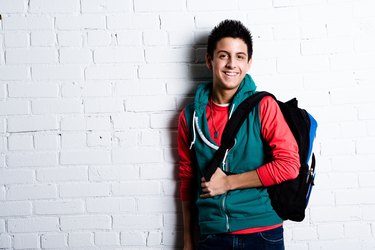 Most student loans are disbursed, or paid out, by the financial aid departments at each college. In general, financial aid isn't available until students start classes. However, if your student loan was granted by the United States Department of Education and you had to complete a Free Application for Federal Student Aid, there are basic rules which allow for early disbursement of your federal student aid, sometimes up to 10 days early.
Step 1
Verify your loan is federal, not private. One sure method is to use the federal government's central database, the National Student Loan Data System (NSLDS). After arriving at the Student Access page, you will need to read and click through to the login page. You will be asked for your personally identifiable information (name, date of birth, etc.).
If you can't retrieve any federal student information using the site, try calling the NSLDS at (800) 433-3243 to speak with a live person.
Step 2
Look up your college financial aid department on the Internet. Early disbursement is specific to each college, although they all follow basic guidelines set forth by the federal government. The easiest way to get more information about your college's disbursement criteria is to use the college's website. Usually, the process to request early disbursement is simply downloading a form from the site, signing it, and submitting it back to the financial aid office, per its instructions.
Step 3
Contact financial aid by phone to speak with a professional about disbursement. Understand that in most cases, however, you may still need to submit a signed paper early disbursement form.
Step 4
Visit financial aid in person. Picking up the early disbursement form, speaking with a professional, and submitting the form, all in one fell swoop is the method that will offer you the most assurance that your request will be processed correctly.
Tip
If your loan is a private loan, try contacting the institution directly for its early disbursement criteria.
Warning
Early disbursement is not always a guaranteed option, even if your student loan is administered by the federal government. Determining factors could range from particulars with the type of classes you're enrolled in, to past students who have received early disbursements having a bad track record with repayment.
Things You'll Need
Personally identifiable information

Internet

Telephone