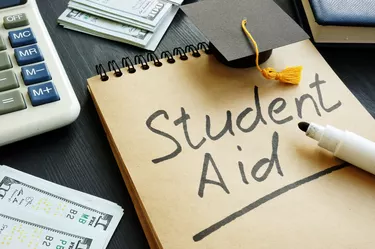 Applying for grants, scholarships and loans can be taxing on you, but only if you don't know where to look. Students at any college must fill out a FAFSA (Free Application for Federal Student Aid) to determine eligibility for financial aid. Grants and scholarships are money that is granted to you that you never have to repay. Loans, on the other hand, you must repay. Most students have to take out subsidized and unsubsidized loans to pay for school, even after grants and scholarships. Talk to your financial aid office at school to determine what will suit your situation best.
Step 1
Assess your needs for school. You do not want to be in debt for the next 10 years paying back student loans. If you think you can work during school to lessen the need for loans, do so. Go to your financial aid office on campus and speak to your financial aid adviser. She can help you find more money than anyone else, and she is qualified to apply for that money for you.
Step 2
Fill out an FAFSA online or on paper. You should get an SAR (student aid report) in the mail a few weeks later. This will tell you how much your EFC (expected family contribution) is. This is the amount that you need to find money to pay for, unless you are going to pay out of pocket. Check the website Fedmoney.org for free government grants. Depending on your major, there are thousands of free grants and scholarships available for students in certain fields.
Step 3
To fill out your FAFSA online, you will also have to apply for an educational PIN number. This is located on the FAFSA homepage and takes a few minutes to get. This is how you e-sign your FAFSA so that it can be processed. It is always best to apply for financial aid at least three months before school starts so that your application information has time to reach your school financial aid office.
Step 4
Check out the FastWeb homepage (fastweb.com) and look for your major. There are thousands of grants given each day. Some require quite a bit of work on your part, such as a 10-page paper on why you should get the grant. Others simply want you to apply, and they pick students based on financial need. This is another reason to fill out the FAFSA.
Step 5
Apply for subsidized loans at your financial aid office. There are many other types of loans, but these are guaranteed to a student, regardless of credit. They are given based solely on financial need. Applications for grants and scholarships all have different requirements. These can be found on the websites listed in the Resources section of this article. If you are a medical student, search for your field. These sites are very specific as to majors and can be your best guide to financial aid.
Tip
"Subsidized" means that while you are in school, there is no interest on your loan. Unsubsidized loans accrue interest from the day they are granted. In any case, you are not due to begin repayment on your loans until exactly six months after you leave school, unless you quit school. In this case, they are due immediately. All financial aid, scholarships or grants that are given based on financial need is government based. Your school may also offer scholarships based on academic records or attendance. Consult your financial aid adviser for more specific information.