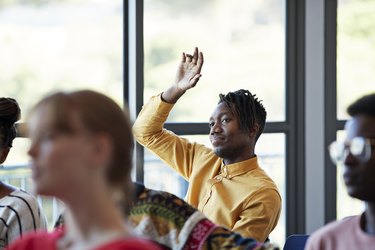 The National Center for Education Statistics reported ​that 11.9 million​ full-time and ​7.5 million​ part-time students attended college in fall 2020. While studying full time is more popular, it doesn't always suit working adults who have to juggle their busy schedules with their studies. Your decision to take on a full- or part-time course load affects everything from your degree completion time and work-life balance to the costs of getting your education. Therefore, you should examine each factor in light of your situation.
While studying full time means a heavier workload, you can also graduate college sooner. According to the University of California Santa Cruz, a full-time undergraduate student would enroll in at least ​12​ semester credit hours while a part-time student might enroll in ​six to​ ​11​ credits.
This means you could complete a ​120-credit​ bachelor's degree program in around ​four years​ studying full time, while this could stretch to ​six years​ with a part-time schedule. Plus, Boston University warns that there's a time limit for degree completion, and a course load that's too light can put you at risk.
Ultimately, studying full time gets your schooling out of the way sooner so you can focus on your career and potentially qualify for a promotion or new role.
Educational Costs and Payment Considerations
You'll often pay lower tuition and fees when enrolled as a full-time student. For example, the University of Pittsburgh has a flat rate tuition charge per semester for full-time students where you could take up to ​18 credits​. On the other hand, you'd need to pay an amount for each credit – often at a higher cost – if you just take part-time courses. Tuition can go up too, so dragging out your timeline to graduation can ultimately add up more.
Along with cost differences, there are financial aid and payment plan considerations. Federal Student Aid explains that you'll need to attend at least half time – typically ​six credits​ per semester – to get federal loans and grants. But while attending full time can maximize your aid, it might make sense to attend part time to get the most out of annual employer tuition reimbursement allowances. You might also opt to attend part time and work full time to have a better chance of paying your way through school and reducing reliance on student loans.
Your Work-Life-School Balance
Regardless of how many courses you take at a time, you can expect some challenges with work-life balance as a working college student. Specifically, you'll want to make sure you have enough energy and dedication to tackle your school work along with working your job, taking care of your family and handling other tasks. Otherwise, you risk becoming burned out and harming your work and academic performance as well as your health.
If you have a full-time job, it's especially challenging to study full time and still have time for yourself. Therefore, Drexel University suggests a part-time college schedule as the less stressful option for that situation. This also allows you to continue maximizing your earnings without risking needing to reduce your work hours to handle your coursework. Online and hybrid programs can especially suit working adults by allowing studying from home.
On the other hand, you might just have a part-time job and not many other responsibilities. If so, you might do fine with a full-time college workload that still allows you to gain work experience while you finish your degree program faster. This option also makes it easier to focus on your studies and take advantage of the college's career and academic resources since you'll be deeply involved.
So, What's Right for You?
In the end, you'll want to think about how much time you can comfortably commit to your studies after considering your work schedule and family life. At the same time, you shouldn't ignore the financial implications and time to degree completion that come with the decision.
Studying Full Time
Faster degree completion
Often lower costs
Maximizes federal financial aid
More challenging work-life balance
Studying Part Time
Slower degree completion
Possibly higher costs
Limits financial aid
Better work-life balance
If you're in a rush to get a new job or promotion, or you don't have an overbearing work schedule, studying full time can be a faster and cheaper path as long as you're prepared for the challenges. However, you may find a part-time program best fits your needs if you're more concerned about your work-life balance and don't mind a longer degree completion time and possibly higher tuition and fees over the long run. If you're planning to use federal financial aid, though, be sure to maintain a minimum half-time course load to qualify.