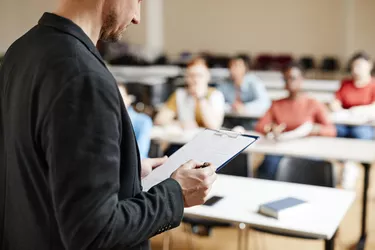 If you grew up in the United States, you probably remember learning about the GI Bill when you studied American history. It helped thousands of veterans earn degrees in the 20th century. Are there still states that offer free college for veterans? Many states have free college programs for veterans, current service members and their families. Other programs can also help with veterans' college tuition and expenses.
What States Offer Free College for Veterans?
Several states explicitly offer free college to veterans or the families of veterans. Among these are:
​Alabama:​ Purple Heart winners at public colleges
​Arizona:​ Purple Heart winners at public colleges
​Connecticut:​ All veterans at public community and technical colleges
​Florida:​ Purple Heart and other medal winners at public universities; tuition only
​Illinois:​ Free college tuition program for most veterans
​Indiana:​ Purple Heart winners at public institutions
​Maryland:​ Free college tuition for disabled veterans at any state college
​Massachusetts:​ Most veterans and active-duty service members at state colleges and universities
​Montana:​ Up to 12 semesters for most veterans after GI Bill benefits
​New Mexico:​ All combat veterans at state colleges after GI Bill benefits have been exhausted
​New York:​ Most veterans at state colleges and universities, including graduate schools
​Rhode Island:​ Most disabled veterans at state schools
​South Dakota:​ Most veterans who served overseas and have used up GI Bill benefits
​Tennessee:​ Partial tuition assistance ($1,000 per semester) to most veterans
​Texas:​ 150 semester hours at public institutions
​Utah:​ Purple Heart winners at public colleges
​Washington:​ Waiver program in which colleges participate individually
​West Virginia:​ Purple Heart winners at state colleges
​Wisconsin:​ Eight semesters of tuition for veterans, which can be used for graduate school
​Wyoming:​ Free tuition at state universities and community colleges
What States Offer Free Tuition to Veterans' Dependents?
In addition to offering free college to veterans, some states and schools also provide tuition-free education to veterans' dependents, especially disabled veterans. Others offer free or reduced tuition to the children and spouses of deceased veterans.
Almost every state in the country has some kind of program to help veterans' families attend college at a free or reduced cost. Still, the specific details vary depending on the state of residence and the state of the institution. These details may be different for disabled veterans, or partial tuition coverage may be offered in some regions of the state.
Most of these tuition benefits are only available at state-run schools, and students must be state residents to access certain aspects of these benefits. To learn more about the limitations of these tuition aid programs, you'll need to speak with a representative at the Veterans' Administration.
Other Benefits That Help Veterans and Their Families Pay for College
Several states offer tuition benefits for their state-run colleges and universities, but those aren't the only sources for veterans. There's also the federal government, as Federal Student Aid explains. The GI Bill is still in place and provides college benefits to most veterans. Sometimes, you can use GI Bill benefits at private universities or nontraditional schools. Also, the GI Bill provides many other services.
Veterans, especially veterans with disabilities, also have access to other programs that can help them pay for living expenses while they're in school. These programs may help pay for housing, food, medical care, transportation and other significant costs that veterans may incur during their time at a university.
Finally, Federal Student Aid provides a list of another thing you won't want to forget: scholarships. There are many scholarship and grant programs for military members and their families, past and present. You should talk to a guidance counselor or financial aid counselor to learn more about these programs.