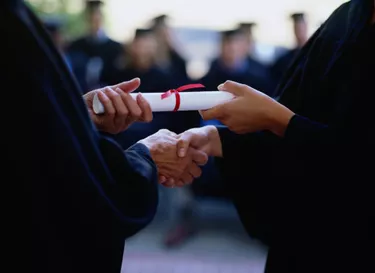 College grants offered to students with divorced parents take into consideration a 25-year research study by psychologists Judith Wallerstein and Julia Lewis that found students with divorced parents were much less likely to graduate from college than students from intact families. If you are a student whose parents are divorced, you can apply for many different federal, state and college-based grant programs to pay for your college education.
Federal College Grants
College students with divorced parents should apply for federal grants for college by completing the Free Application for Federal Student Aid (FAFSA) every year they plan to attend college at fafsa.ed.gov. The FAFSA determines college aid eligibility for all students planning to attend college. If your parents are divorced, only the custodial parent's income is required to complete the FAFSA. Students can apply for a Pell Grant of up to $5,550 a year, plus the Federal Supplemental Educational Opportunity Grant of up to $4,000 a year depending on their financial need at studentaid.ed.gov.
State Grants for College
All states and the District of Columbia offer grants for college. Many state college grants are based on financial need and students with divorced parents can be eligible to receive them. Any students who are Texas residents and who meet program requirements can apply for a TEXAS grant for up to $6,780 per year for college tuition and fees at collegefortexans.com. Any Wisconsin student can apply for a Wisconsin Tuition Grant of a minimum of $250 a year from the State of Wisconsin Higher Education Aids Board at heab.state.wi.us.
College-Based Grants And Tuition Waivers
Most community colleges, state colleges and universities offer tuition waivers and other grants based on financial need. Eligibility for tuition waivers and grants is based on the FAFSA and college tuition waiver applications. Only the custodial parent's income is considered when applying for tuition waivers. Students who are legal residents of Oklahoma can apply for a tuition waiver at Rose State College in Midway City, Oklahoma at rose.edu. Students who attend a Massachusetts community college can receive a 33 percent tuition waiver if they are transferring to a Massachusetts four-year college at osfa.mass.edu.
Scholarships and Private Grants
There are no specific college grants for children of divorced parents, but many scholarships and privately-funded grants are offered based on financial need, academic performance and area of study. Students with divorced parents or any students can write an essay expressing why they want a college education to compete for a College JumpStart Scholarship of up to $1,500 at jumpstart-scholarship.net. Students should complete an online application and a 250-word essay to apply for a $1,000 Gen and Kelly Tanabe Scholarship, which is awarded twice a year at gkscholarship.com.