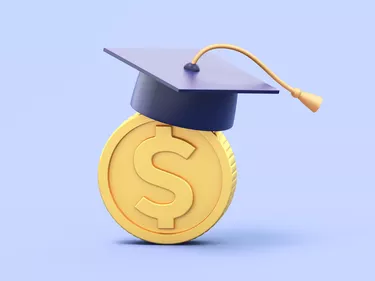 According to the National Center for Education Statistics, the average tuition and fees for the 2020-2021 academic year ran ​$9,400​ at a four-year public university and ​$37,600​ at a private institution. While you'll still need to take some regular courses, you could save a lot of money and cut time off your degree plan through alternative credits. Often involving taking a comprehensive exam, submitting a portfolio or completing online coursework, alternative credits are available through numerous sources. Learn how and why you should consider this option.
How Alternative Credits Work
You might use alternative credits to count toward specific degree program requirements or meet prerequisites to take institutional courses. In some cases, the school offers in-house options that award credits that aren't transferable. However, external alternative credit programs provide a record of completion or send information to requested schools, and these credits could work for multiple institutions.
Common alternative credit options include the following:
​Credit by exam​: This involves preparing for and taking a final test that can give you credit toward a matching college course. For example, you might take an Advanced Placement (AP) course in high school and pass a final exam. The University of Akron describes other options such as College Level Examination Program (CLEP), DANTES Subject Standardized Tests (DSST) and college-specific challenge exams.
​Dual-enrollment courses​: This involves taking courses that both count for high school and college either for free or at a reasonable cost.
​Online alternative credit courses​: Straighterline and other providers offer low-priced, self-paced courses that your college may accept. These usually include a proctored online exam along with quizzes and possibly some written assignments.
​Portfolio review programs​: Penn State and other schools may let you compile a portfolio showing work experience, supporting documents and a written explanation of your knowledge for a certain course.
​Credit for existing credentials​: If you've earned a professional license or industry certification, your school may award credit for one or more courses. For example, Purdue University Global accepts many technology-related certifications.
Often involving taking a comprehensive exam, submitting a portfolio or completing online coursework, alternative credits are available through numerous sources.
Why Seek Alternative Credits?
A major benefit lies in reducing your tuition costs. Rather than possibly paying over $1,000 for a three-credit course, you can pay a small fee or enroll in an online subscription to complete courses for much less. For example, Sophia Learning charges ​$99​ monthly to take unlimited courses, while Study.com costs ​$199.99​ to complete two college courses each month. For AP and CLEP exams, you could even get a test fee waiver.
Alternative credits also save time and offer flexibility. If you have the knowledge, you can quickly take an exam or make a portfolio to submit for review. If you go with online courses, you can work at your pace and not be limited to a traditional semester. Earning credit more quickly means meeting degree program requirements and graduating college sooner.
What Are Alternative Credit Limitations?
Lehman College cautions that alternative credit programs usually don't qualify for financial aid. Therefore, you'll need to budget for them on your own or seek discount or waiver options if necessary. In addition, keep in mind that your school may not accept specific types of alternative credits or allow specific courses to count. This means you risk not getting credit for your exam or coursework unless you do careful planning.
Alternative credit options may not suit all situations. For example, you might benefit more from traditional instruction for subjects you find difficult. Plus, if you know little about a particular subject, you may find it hard to pass a comprehensive exam, and this can cost you money and time. Rushing through the content or cramming for exams also runs the risk of not retaining important information for later.
Getting Started With Alternative Credits
First, you should verify acceptance at your prospective or current school. Oklahoma City University explains that AP and CLEP credits especially receive widespread acceptance. However, you'll want to check with the alternative credit provider or your school to see if there's a particular list of accepted credit options that apply in your situation.
You'll then want to ensure the credits fit into your degree plan. Many alternative credits can work for general education or elective courses, but schools can be pickier with major or concentration courses. In addition, you'll come across limits both for noninstitutional courses and alternative credits that can apply to your degree program.
For example, Thomas Edison State University accepts ​90​ alternative credits for a bachelor's program, while Roane State Community College allows just ​30​ alternative credits for its programs. Since requirements vary by school, you should reach out to your academic adviser to best determine how you can utilize these credits.