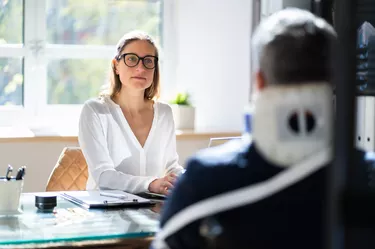 Whether you're making a career transition to law or you're a lawyer wanting to specialize, being a forensic attorney involves analyzing evidence to help solve legal cases as well as handling general legal tasks. To gain the unique expertise needed for this role, you'll usually focus your undergraduate studies on forensic science before you pursue the law degree needed to get licensed. While the Bureau of Labor Statistics (BLS) doesn't give specific forensic lawyer salary data, it reported that lawyers in general (including specialists) made a 2021 average yearly wage of ​$​​148,030​.
Forensic Lawyer Description
Your job as a forensic lawyer would include some specialized tasks you'd see as part of a forensic science technician job description. For example, the BLS lists gathering crime-related evidence, such as hair and fingerprints, and performing evidence analysis as part of a forensic science role. These attorneys also perform such tasks when handling cases from businesses and people, and they use the evidence to help determine whether a suspect is guilty.
The American Bar Association (ABA) mentions some additional basic duties you can expect regardless of your legal specialization. You'll produce reports with your findings, perform research, advise on legal matters and appear in court. Any lawyer job will also involve significant collaboration with clients, paralegals, law enforcement and other parties.
Forensic Lawyer Requirements
Becoming a forensic attorney will require earning your Juris Doctor (J.D.) degree and getting licensed in your state by passing the bar exam, undergoing a background check and meeting other requirements. But before that, you'll need to finish an undergraduate degree and take the Law School Admission Test. The ABA says you have a lot of flexibility in your undergraduate major, but it does suggest taking classes that build problem-solving, research, communication and collaboration skills.
If focusing on forensics is part of your career plan, then you'd likely get your bachelor's degree in forensic science or a similar area. You can also take forensic law electives during your J.D. program.
Completing all these requirements means it can take ​seven years​ or longer before you're ready to find work as a forensic lawyer. Also, keep in mind that your employer might also require forensic science tech work experience.
The 2021 lawyer salary data from the BLS reported a ​$127,990​ median wage. The lowest-paid attorneys made ​$61,400​ or less, while top-earning lawyers got ​$208,000​ or more. Since you can be self-employed, you'll want to keep in mind that your forensic lawyer salary can depend on the rates you set as well.
The average wage at legal services firms, the top employer of lawyers, was ​$150,130​. Governments paid lawyers average wages of ​$147,000​ at the federal level, ​$101,110​ at the state level and ​$113,680​ at the local level. Lawyers providing services in the company and enterprise management industry averaged ​$198,900​, while other information services paid the highest average wage of ​$235,280​.
New York, California and the District of Columbia were among the top states for lawyer jobs and paid high respective average salaries of ​$179,060​, ​$176,610​ and ​$198,820​. The states with the lowest average lawyer earnings paid between ​$67,350​ and ​$105,370​ annually and included Mississippi, Kentucky, Maine and South Dakota among others. Metro areas in the same state can have widely varying salaries; California lawyers in Redding averaged only ​$120,020​ compared to ​$177,550​ for those in Los Angeles.
Forensic Lawyer Job Growth
The BLS lawyer career outlook indicates ​9 percent​ employment growth through 2030. Creating around ​71,500​ lawyer jobs, this growth is on par with the ​8 percent​ change expected for occupations in general.
When you start your forensic lawyer job search, keep in mind that certain industries will have more demand than others. For example, you might find many opportunities at legal services firms, though these businesses may allocate some work to paralegals. The federal government is another employer expected to demand lawyers. You can also start your own law firm.