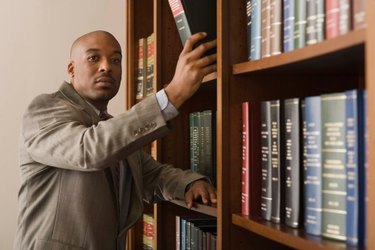 A forensic lawyer is a lawyer with expertise in forensic science — the study of evidence found at a crime scene — as well as law. He may use his expertise in disciplines such as chemistry and biology to examine trial evidence to either build up or tear down a case, according to the YellowPages.com website. A forensic lawyer may work with a team of attorneys and contribute his knowledge of forensics to help build a case, or he may work as a prosecuting attorney in a criminal case, the site states.
Salary
According to the U.S. Bureau of Labor Statistics, the mean annual wage for a lawyer was $129,440, or $62.23 an hour, as of 2010. Indeed.com puts the annual wage for a forensic lawyer at $140,000 as of 2011.
Benefits
Lawyers often receive benefits such as paid holidays and vacations, sick leave, insurance plans and retirement plans, according to the Michigan Jobs and Career Portal website. The site notes that certain lawyers may also be offered stock purchase or savings plans.
Differences by Location
A forensic lawyer working in New York makes $162,000 annually, according to Indeed.com. A forensic lawyer working in Atlanta makes $145,000; one in Dallas makes $136,000; one in Los Angeles makes $144,000; and one in Chicago makes $146,000, as of 2011.
Outlook
Although competition for job openings should be keen because of the large number of students graduating from law school each year, the Bureau of Labor Statistics projects that employment of lawyers is expected to grow 13 percent from 2008 to 2018 — about as fast as the average for all occupations. Growth in the population and in the level of business activity is expected to create more criminal cases. The bureau states that job growth for lawyers will be concentrated in salaried jobs, most of which will be in urban areas where government agencies, law firms and big corporations are concentrated.