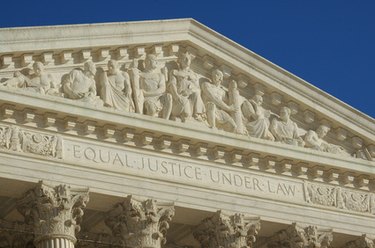 The pay of federal judges has always been similar to that of members of Congress, and it has been directly correlated since at least the 1980s. Just as the Chief Justice of the United States Supreme Court sits at the apex of the U.S. judicial system, it is also the highest paid position in the federal judicial branch.
2010 Salary
The US Courts official website lists the salary of the Chief Justice of the United States in 2010 at $223,500. In 1968, the Chief Justice's salary was just $40,000. The Chief Justice's salary first broke through $200,000 in 2004, when the salary was increased from $198,600 to $203,000. Compare this to the salary of the president of the United States, which prior to 2000, was also $200,000. When George W. Bush took office, the salary was increased to $400,000.
Compared Other Federal Court Judges
The Chief Justice is paid more than any other federal judge. The lowest paid of the Article III judges, who enjoy lifetime appointment, are the district court judges, who received $174,000 in 2010. Circuit court judges, the intermediate-level appellate judges in the federal system were paid slightly more at $184,500. Associate Supreme Court judges, who do not have some of the additional responsibilities of the Chief Justice, earned $213,900 in 2010.
Tied to Congress
The pay of federal judges is tied to Congressional pay. Senators and members of the House both received $174,000 in 2010, the same pay as district court judges. Though the salary of federal judges has increased greatly in nominal terms since the late 1960s, it has actually declined by almost 25 percent when adjusted for inflation. Compared to the average U.S. worker's wage gains over the same period, federal judges have fallen behind by over 40 percent. The lack of popularity of Congress, and the fact that judicial salaries are tied to legislative salaries, has made it difficult to raise the compensation for federal judges.
Independent Judiciary
Chief justice John Roberts has called the compensation of federal judges, or lack thereof, one of the greatest threats to America's independent judiciary. The purpose of appointing federal judges for life is to insulate them from special interests and politics. Increasingly, however, federal judges are returning to the private sector, where they can easily make several times more each year. The average law school dean earns over $400,000 annually, and many top lawyers earn well over a million. There are even thousands of other federal employees that earn more than district court judges.