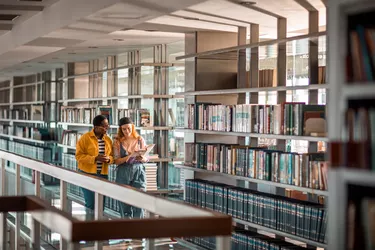 While there are many scholarships for high ACT scores and SAT scores, not everyone is good at taking tests. Luckily, there are many scholarships that don't require SAT or ACT scores. These are awarded for academic achievement in school, athletics, public service, artistic skill and other accomplishments. Getting scholarships without ACT scores or SAT scores is all about following the proper methods to find those opportunities.
Scholarships That Don't Require SAT or ACT Scores
Financial Student Aid mentions that these days, it isn't enough to get good grades; students who want to attend a good college must also demonstrate that they are well-rounded and active participants in their school community. To make your college application stand out and help you qualify for scholarships, you should be involved in athletics, artistic endeavors, clubs and hobbies and volunteer work. According to Financial Student Aid, the first step is to know where to look to find scholarships that don't require high test scores. You can utilize the internet as a resource but talk to your high school guidance counselor, who can suggest specific scholarships and provide resources for finding them on your own.
The good news is that you can and likely will be an excellent candidate for many scholarships even without good test scores. To find scholarships, evaluate your strengths. Determine not only what you're good at and love but also how you can demonstrate those skills in an application.
Some areas to consider when searching for scholarships include:
​Athletic scholarships:​ You can get a scholarship to college to play a sport or for having participated in sports in high school.
​Artistic accomplishments:​ There are scholarships for painting, sculpting, dancing and even martial arts.
​Personal attributes:​ If you're part of a minority group, you're an immigrant, you have certain diseases or disabilities or you're a first-generation college student, you may qualify for specific scholarships.
​Various career paths:​ Some scholarships sponsor students interested in studying and working in particular fields.
​Income:​ Pell Grants, for example, are federal income-based grants for college.
​Affiliations with corporations and companies:​ You'll want to look for opportunities at the company where your parents work.
Can SAT Scores Get You Scholarships?
Remember that even if a scholarship application asks for test scores, this doesn't automatically mean that they're scholarships for high SAT scores. They will take all of the components of your application into consideration. If you're a particularly bad test taker, include a cover letter with your application that explains that circumstance and asks the committee to consider other application materials.
In most cases, when SAT or ACT scores for scholarships are required as part of the application, committees review many other additional factors. Believe it or not, there are also scholarships for SAT scores or ACT scores only.
Schools award set amounts of aid annually to new students with exceptionally high test scores. Many of these come from colleges and universities themselves. These scholarships incentivize some of the best-performing high school seniors to attend their college. Schools that do this include Baylor University, Colorado State University, Ohio State University, Clemson University and the University of Arizona.
What Are Good SAT Scores for Scholarships?
The SAT scores range from 400 (the worst score) to 1600 (a perfect score). Generally speaking, a score of 1200 or higher is considered a sign of above-average intelligence. Therefore, the closer you can get to 1600, the more scholarships will open for you. For the ACT exam, the highest score you can earn is 36. Anything above 30 will usually earn eligibility for scholarships for high ACT scores.
There are ways that you can improve your scores on both exams. Experts strongly suggest taking a prep course, either in person or online. They help you brush up on necessary knowledge and provide vital test-taking tips and tactics proven to improve scores.