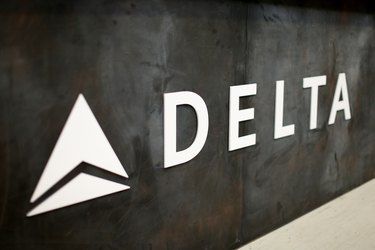 Serving nearly 160 million customers a year, Delta Air Lines operates as one of the largest and most successful airline companies in the world. Along with exceptional airline service, Delta Air Lines strives to give back to its customers and the community through a number of college scholarships the company sponsors. Some scholarships are offered in partnership with organizations that promote diversity in the airline industry.
Women in Aviation
Delta Air Lines partners with the Women in Aviation organization to provide scholarships to undergraduate students. For example, four scholarships are flight scholarships that provide financial assistance to students pursuing flight training for the Boeing 737 and Airbus 320. Each flight scholarship is worth $35,000, and covers all training costs, lodging and transportation associated with training. The Delta Air Lines Engineering Scholarship gives $5,000 to a student enrolled in an aerospace, aeronautical, electrical or mechanical engineering program. Applicants must be currently enrolled as undergraduate students or have already obtained a bachelor's degree to qualify.
VPPPA Safety, Health and Environmental Scholarship
Partnering with the Voluntary Protection Programs Participants' Association, Delta Air Lines offers the Delta Air Lines/VPPPA Safety, Health and Environmental Scholarship. The scholarship goes to an undergraduate student who actively participates in safety, health or environmental outreach on the student's college campus. Students must also be pursuing a degree in safety, health or environmental issues and can be attending any accredited college, university or technical school. The scholarship candidate must either be a member or the child of a VPPPA member and associated with the airline industry. Award amounts vary each year, depending on funding received.
The Delta Air Lines Aviation Scholarship
The Delta Air Lines Aviation Scholarship was established by the Delta Air Lines Foundation and is administered by the Tarrant County College Foundation in Texas. Worth $350 per semester, the scholarship goes to a student in the Aviation Program at Tarrant County College in Fort Worth, Texas. To be eligible, students must have completed 10 hours in the aviation program and a have a minimum 2.75 grade point average. Scholarship winners are chosen based on academic merit and involvement.
Delta Air Lines 737 Type Rating Scholarship
In conjunction with the Organization of Black Aerospace Professionals, Delta Air Lines offers the 737 Type Rating Scholarship open to current members of OBAP. The scholarship covers the $35,000 cost of the six-week Boeing 737 Type Rating Training. Applicants must be at least 21 years old, have a 2.5 grade point average and either be an undergraduate student or hold a bachelor's degree. Students must also currently hold commercial, instrument and multi-engine land certificates, with at least 1,000 flight hours.