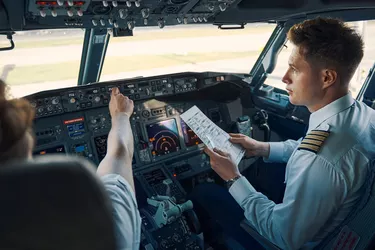 Delta Air Lines is a major multinational corporation that offers educational aid to students in various forms. You can apply for a generous engineering Delta Air Lines scholarship, and there are also funds for Delta flight school as well as Delta Air Line Foundation grants for employees and their families.
Delta Flight School Financial Aid
While no specific Delta scholarship fund exists for training pilots, the Delta Propel Pilot Career Path Program provides other kinds of support. Students and recent graduates of participating universities can apply for the program. Once accepted, they receive a qualified job offer from Delta. This qualified job offer ensures employment with Delta upon completing the program. It also guarantees that Delta will coach and employ participants through the following stages of their career.
Pilots earn relatively generous salaries, and Delta is a top employer. Delta's giving program and the Delta Air Lines Foundation both grant scholarships in specific study areas. The first is a partnership with the Voluntary Protection Program Participants' Association (VPPPA).
Students must study and be actively involved in safety, health and environmental protection to qualify. They must major in a related field and be engaged in some kind of outreach work on campus or in their community. They can attend any college, university or technical school, but they or their family must somehow be affiliated with the VPPPA or the aviation industry.
Scholarships for Black Pilots and Women
In recent years, the aviation industry and other adjacent fields (such as engineering) have worked to diversify. As part of this endeavor, Delta offers special scholarships to women and people of color, especially those hoping to become pilots. The government officials at the Virginia Department of Education explain that to encourage this diversification, Delta Air Lines has partnered with Hampton University, making that school the first historical Black university to partner with the Propel program.
The Delta Air Lines Engineering Scholarship awards ​$5,000​ to a woman currently enrolled in an aerospace/aeronautical, electrical or mechanical engineering program. It also funds a trip to the International Women in Aviation Conference, which is a tremendous networking opportunity for students.
In a partnership with the Organization for Black Aerospace Professionals, Delta also offers a scholarship covering the ​$35,000​ fee for 737 Boeing type rating training. To qualify, applicants must be 21 and have a minimum 2.5 GPA while enrolled in college. They must hold some kind of license and have logged at least 1,000 flight hours.
Delta Air Lines Scholarship Programs at Specific Institutions
Delta works with several specific educational institutions (besides those affiliated with the Propel program) to provide scholarship aid. The first is Tarrant County College in Fort Worth, Texas. North Texas is a central hub for Delta, and it offers ​$350​ per semester to qualifying students in the aviation program.
Delta also partners with Spartan College of Aeronautics and Technology, which has campuses in Denver, Colorado; Los Angeles, California; Riverside and Inglewood, California and Tulsa, Oklahoma. These schools train people to work in the aeronautics industry in several capacities. You may need to be or live with a current Delta employee to qualify for a scholarship. The Delta Scholarship Fund awards more than $1 million in aid to current and former employees and their dependents. If you or any of your family members work for Delta, this is an excellent source for funding your college education, especially as those expenses climb.
Finally, suppose you're hoping to go into aviation or have immediate family members in the industry. In that case, you'll want to be sure to look into other airline scholarships and aid from professional organizations. Many organizations besides Delta offer similar scholarship opportunities.