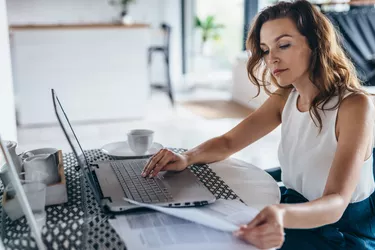 Writing a resume that focuses on relevant skills from your work experience and education can help hiring managers clearly see why you're a fit for your next job title. This option can particularly benefit job seekers interested in a different line of work since you likely have some transferable skills. But before writing the skills section, you'll need to prepare so that you choose the right resume format, focus on relevant skills for the job and clarify the connection between experience and skills.
1. Understand Resume Format Options
While you can always add a skills section to any kind of resume, you should consider a few popular options like the functional, chronological and combination resume formats. All these include basic sections for your contact information, professional summary, education and work experience. However, they go into different levels of detail for listing and emphasizing skills.
The functional resume works best for a skills resume since it has a major section with skill groups and bullet points linking specific experiences or accomplishments to those skills. A chronological resume, on the other hand, might simply list several skills without detail since it includes a more detailed work history. Using a combination resume might mean adding a skills section with a list of statements linking skills and experience.
2. Consider Your Intended Job Description
With a resume format in mind, take a look at the requirements and duties for the new job that interests you. This might mean looking at job listings and pointing out shared skills that are often also important keywords the applicant tracking system looks for. These can include soft skills such as critical thinking and communication skills as well as specific hard skills or technical skills required such as accounting or programming skills.
For example, if you want to be a sales representative, you might notice job postings request sales, customer service and interpersonal skills. On the other hand, a web developer job ad might address problem-solving abilities, programming skills and design skills. You can use these trends to next determine relevant skills you have.
3. Determine Skills Gained Through Experience
After determining which resume skills recruiters seek, take a look at how those connect to everything from the jobs, internships and volunteer work you've done to degrees and certifications you've earned. If you're writing a functional resume, you might opt to focus on three to five broader skill groups compared to listing several specific skills for a chronological resume. In any case, filter out irrelevant skills that don't apply to the specific job.
For example, say you worked as a cashier while you earned a finance degree. You now seek an entry-level banking representative job. Relevant skills could include the finance expertise gained through your degree as well as customer service and money management skills from work.
4. Start Crafting Your Perfect Resume
After pinpointing relevant skills, start filling out your resume using the chosen format. Looking at resume examples and using resume templates and resume builder websites can help. Regardless of the format, you'll usually first make a header with your contact information such as your name and phone number. Follow up with a resume summary stating your career objective or summary of experience; the summary statement can also briefly list some relevant skills.
If you're writing a functional resume, you'd likely next craft the detailed skills section with each major skill a heading and have bullet points beneath stating specific achievements from your work history and education that demonstrate the skill. You could then follow with brief sections for work experience and education, where the experience section usually leaves off a list of job duties and possibly even dates. If you're a recent graduate, you might include education sooner in the resume, however.
If you go with a chronological or combination resume, you might include detailed sections for your work experience and education (in reverse chronological order). The skills section might be a simple list without detail when your job duties later clarify the connection. Otherwise, you might use brief sentences with action verbs connecting experience and skills with these formats.
5. Polish Your Skills Resume
Before you use your new professional resume for a job search, proofread it carefully for typos and make sure you've included enough detail for hiring managers to assess your suitability. You might consider getting help from a resume writing service that offers suggestions for the perfect resume and could discover additional skills you should list for potential employers.
After you've completed the resume writing process, you'll also likely need to write a cover letter for job applications. This is another good time to focus on your relevant skills and highlight relevant experience and credentials that recruiters seek. You might also consider updating your LinkedIn profile where you can list skills and mark yourself as available for work.