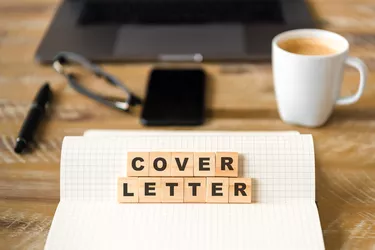 When you're on a job search, there's a good chance the job application you fill out will ask for a cover letter. While you might find it redundant after you've already addressed your work experience and credentials on your resume, your cover letter is your chance to make a good first impression and highlight your background relevant to the specific job description. Here's what you should know about writing a great cover letter that's targeted and stands out to the hiring manager.
While your resume provides a history of what you've accomplished and learned, your cover letter provides recruiters with a personal introduction and explanation of why you'd be a good candidate.
According to the Minnesota Department of Employment and Economic Development, a good cover letter not only tells your potential employer about your relevant experience and training, but it also addresses why the company appeals to you and what value you offer. It can also serve to catch the company's attention by naming a referral.
Without a cover letter, you might miss out on your dream job if the employer ignores the application for being incomplete. You'd also miss out on the chance to highlight specific qualifications that might get overlooked on your resume or LinkedIn. For example, if you're going for a career change, a cover letter makes it easier to highlight transferable skills. Therefore, you should always provide a cover letter when seeking new job opportunities.
Why Write Tailored Cover Letters?
You might feel tempted to write a generic cover letter, but this won't help you stand out among other job seekers. Instead, the Oak Ridge Institute for Science and Education suggests that you should write a cover letter that focuses on the specific company and job posting. This can mean either creating a whole new letter or cautiously tweaking an existing one if the jobs are extremely similar.
This will require you to dig through the job description and relate the requirements and duties to jobs and credentials you have on your resume. You might even look at the company website to learn more about the industry and the company's goals and projects. That way, you can come up with specific and relevant examples to include.
While your resume provides a history of what you've accomplished and learned, your cover letter provides recruiters with a personal introduction and explanation on why you'd be a good candidate.
What's the Cover Letter Format?
You can take a look at cover letter examples online or even find a cover letter template that helps you visualize the details and structure. There are also industry-specific cover letter samples you can refer to. But while you can always customize, you'll typically use a business letter format with three paragraphs with specific focuses as follows:
​Header​: This part usually begins with your name and contact information (such as your phone number, email address, home address and social media pages). It also includes the date followed by the hiring manager's name, company name and contact information.
​Salutation​: You can greet the person by name (such as "Dear Mr. Jones") or use a more generic option such as "Dear Hiring Manager" if you don't know the name. Try to avoid "To Whom It May Concern" to avoid sounding impersonal.
​First paragraph​: The opening paragraph covers what role you're applying for and why. You don't need to provide a lot of specifics on all your experience here. Instead, you should discuss your passion for the job and any special interest you have relevant to the position that made you want to apply.
​Second paragraph​: The best cover letter will use the second paragraph to detail specific skills and accomplishments that demonstrate your suitability for the new job. You don't want to just repeat items from your resume but rather use this section as your sales pitch, suggests the University of Washington. For example, if you're applying for a software engineer job, you could highlight successful applications you've built with specific tools and programming languages the potential job requires.
​Closing paragraph​: This third paragraph should reaffirm your interest and value, thank the recruiter or hiring manager and demonstrate an interest in moving forward with a job interview.
​Sign-off​: You'll simply use a formal complimentary closing and sign your name.
More Helpful Cover Letter Tips
To write a successful cover letter, you'll want to keep some other tips in mind. The New York State Department of Labor advises you to always stay professional and positive and to proofread carefully to catch any typos. It also helps to not go beyond one page and to occasionally use special formatting, such as bulleted lists, to help with readability. In addition, focus on making yourself memorable to the company and carefully picking details that make you shine for the role.