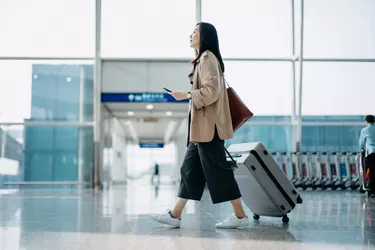 What Are Traveler's Checks?
Traveler's checks are an outdated form of payment issued in set denominations and backed by a financial institution for use as local currency during international travel. Widespread digital payment options have significantly reduced the need for them. Some banks may still issue traveler's checks, and existing traveler's checks are still honored for use by retailers or deposit into your bank account.
Can You Still Buy Traveler's Checks?
Traveler's checks, or traveler's cheques, are not as widely available as before the 1980s when credit cards, debit cards and prepaid cards became more widely accessible for international travel.
In their heyday, traveler's checks were available at most banks and currency exchanges. The way traveler's checks work is that the issuer partners with banks and exchanges in foreign countries to ensure travelers can exchange or use their traveler's checks during travel.
Even as options diminished, American Express, once the gold standard of traveler's checks, continued to sell their American Express Travelers Cheques. On December 31, 2020, American Express discontinued the issuance of new traveler's checks.
Many national financial institutions, such as Bank of America, Chase and Wells Fargo, have discontinued the sale of traveler's checks. That doesn't mean that it is impossible to find them. If you are interested in buying traveler's checks, visit your local bank, credit union or AAA office to learn your options.
How to Use Traveler's Checks
If you have an existing traveler's check issued by Visa, Mastercard, American Express or another financial institution, you have several options for using them.
‌Redeem with a merchant‌: Some hotels, restaurants and retailers may still accept them.
‌Exchange for local currency:‌ Bring to a bank or foreign exchange.
‌Redeem online:‌ Check the issuer's website for options.
Keep in mind that there may be fees associated with exchange or redemption. Check the terms of service on your check and contact the bank for confirmation.
How to Cash Traveler's Checks
Cashing a traveler's check for goods and services requires you to show a photo ID and sign the check in front of the merchant.
Traveler's checks have two signature lines. The first endorsement happens when you purchase the check from the issuer. The next signature is placed on the check in front of the retailer or financial institution where you are using or cashing the check.
Pros and Cons of Traveler's Checks
| Pros | Cons |
| --- | --- |
| Safety and security | Not widely available for purchase |
| Can be cashed without an ATM | Not a popular payment method |
| Can be used if you don't have access to digital payment methods | A hassle to replace if stolen |
| May secure a better exchange rate | Fees for use |
Advantages of Using Traveler's Checks
When You Can't Access Your Credit or Debit Card
If your debit or credit card is stolen, or you don't have access to digital payment options, you may find traveler's checks a good choice for travel money. Or, if you are somewhere that you don't feel safe using a payment method that is linked to your checking account or credit, a traveler's check provides a way to pay without risking identity theft.
When You Have Limited Access to ATMs
If you need cash and are in a location with limited ATMs, as long as you can get to a bank or foreign exchange, you can cash your traveler's cheque.
When You Want to Access Good Exchange Rates
When you purchase a traveler's check, the exchange rate for foreign currency is fixed. This can benefit a traveler in some cases unless the exchange rate changes against your favor during travel.
Added Safety and Fraud Protection
Each traveler's check has a unique serial number backed by the issuing financial institution. So it can be traced, voided and refunded. To be used or cashed, a traveler's check must be signed in the presence of a merchant or teller and presented with a photo ID.
Cons of Using Traveler's Checks
Not a Popular Payment Option
The declining use of traveler's checks means that they aren't as widely received as they once were. Because many financial institutions don't issue traveler's checks, bank partnerships in foreign countries aren't as prevalent. Not as many merchants accept them.
Not All Banks Use/Offer Them
Before digital alternatives for travel currency, most banks and credit unions sold traveler's checks. Now, they are very challenging to find.
While authentic traveler's checks are inherently secure, it can be a hassle to replace them if they are stolen. First, you must have a record of all your check numbers on-hand, and then call the issuer and submit a claim.
Foreign transaction fees for traveler's checks vary by country and foreign exchange partner. Unless you do your research, you may not know these costs upfront.
Traveler's Check Alternatives
The reason most financial institutions don't offer traveler's checks is that the modern traveler just doesn't need them. There are several convenient alternatives:
credit cards without foreign transaction fees
debit cards without foreign transaction or ATM fees
prepaid travel cards
Wise peer-to-peer app
If you are gearing up for foreign travel, check with your bank or credit card company to find your most secure and lowest-cost option for accessing funds abroad. Especially with inflation, choosing the right payment method for travel is essential. And, if you have unused traveler's checks, take heart. You should still be able to redeem them for cash through the original issuer.