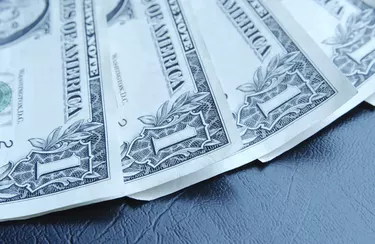 Have you found some old bills stashed in a drawer? Don't throw them away yet, as you might be able to sell or exchange them. Money does not expire, but some coins and notes may be withdrawn from circulation. Plus, most merchants won't accept damaged bills.
Tip
There are several ways to exchange old bills, depending on their condition. Generally, consumers can either submit a request to the Bureau of Engraving and Printing or contact a local commercial bank.
Exchange Damaged or Mutilated Currency
Banknotes stay in circulation anywhere between six and 23 years, according to the U.S. Federal Reserve. Their lifespan depends on the denomination and how they are used. For example, ​$50​ bills are not used as often as ​$5​ bills, so they last longer. The average lifespan of a ​$50​ bill is around 12 years, while a ​$5​ bill lasts just four years and seven months. Damaged bills are destroyed and replaced as needed.
The Bureau of Engraving and Printing (BEP) uses the term "mutilated currency" for bills that are halfway intact or in such a condition that it's impossible to tell the denomination. U.S. currency notes that meet these criteria can be redeemed at full value. The BEP receives mutilated bills worth over ​$35 million​ each year.
If your bills are mutilated, you must file Form 5283 and then mail or deliver the currency yourself to the BEP. The organization will evaluate each note and then accept or decline your request. Expect to hear back within six to 36 months. If your request is approved, you'll be reimbursed by check or direct deposit.
Worn, torn or soiled bills are not considered "mutilated," points out the Federal Reserve Bank of San Francisco (FRBSF). Instead, they are classified as "unfit." The BEP doesn't accept unfit bills and contaminated currency. The latter may include notes and coins that were exposed to mold, sewage, blood or hazardous chemicals.
Unfit or contaminated currency can be exchanged at commercial banks, says the FRBSF. However, some banks may exchange worn or torn notes only for their customers. Ideally, visit the bank you normally use and deposit the money into your account. You might also have the option to exchange your old bills for fresh currency without making a deposit.
Things are a little more complicated when it comes to foreign currencies. Greek drachma banknotes, for example, were replaced by the Euro in 2012. As a result, they have lost their monetary value and can no longer be exchanged. Maltese lira banknotes, on the other hand, stopped being legal tender in 2018, meaning that you cannot exchange them for Euros or new bills.
Many collectors are willing to pay a fortune for old bills with numismatic value, depending on their condition, rarity and demand. The Enoch Pratt Free Library recommends hiring a professional appraiser or currency dealer to help you out. An expert can evaluate your old bills to determine their worth. Another option is to check prices on eBay and other online marketplaces.
Next, decide where you want to sell your old bills. Heritage Auctions, for example, has been in business since the 1970s. After registration, you can either sell the items yourself or in a consignment auction. Users pay a 10 percent fee per sale. Other options are eBay, Modern Coin Mart, APMEX, Craigslist and Facebook Marketplace.
Specialized platforms, such as APMEX and Heritage Auctions, are the go-to choice for collectors worldwide. The downside is that they may only accept rare or high-value items. Amazon, eBay and Craigslist are less specialized and more flexible, allowing users to sell all sorts of notes and coins, including expired currency.