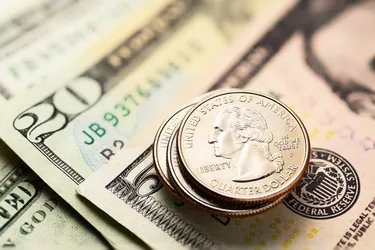 You can turn your coins into paper currency at banks, credit unions and even grocery stores if you're willing to pay a fee. Depending on how often you want to do this, you might want to invest in a device that will sort your coins and slip them into wrappers before you take them in to be exchanged. Reviewing how to turn your pennies, nickels, dimes, quarters and other loose change into dollar bills (or even gift cards) will help you save time and get this money into your wallet or purse.
Sort Your Coins, If Possible
When you turn in loose coins, they'll have to be sorted and counted – many money changers won't trust your word about your amount. Even if you bring your money into a money changer in the correct paper rolls, some banks, credit unions or other businesses will take them out of the wrapper to count them.
The reason you want to sort your coins is to make sure you have the amount correct. If you have a small amount of change, it's no big deal, but if you're involved with a business that generates lots of coins on a regular basis, you'll want to make sure you don't get short-changed in the transaction (no pun intended). Visit a bank or credit union and ask if they provide or sell paper coin wrappers. If not, order them online (along with a coin sorter), such as on eBay or Amazon.
To avoid paying a service fee, visit a branch of your bank or credit union and bring your coins in. Call before you go in, recommends U.S. News & World Report – many large banks no longer have coin counting machines for customers.
You don't need them sorted or wrapped at some banks, while other banks require that your coins be wrapped when you turn them in. The bank has a machine that will do that for you and calculate your total. Check before you go in – some banks charge sorting fees. If so, you might be able to find a sorting machine closer to you, such as at your local grocery store. However, banks probably offer the lowest rate, especially if you have an account with them.
Any non-bank business you go to sort your change and exchange it for paper bills will charge you a fee. The fee will be listed on the machine. Calling your bank before you go into a business with a sorting/exchange machine will let you compare the rates they charge.
Grocery stores offer a variety of financial services at their customer service counter. This includes Western Union and utility bill-pay services, lotto ticket sales and check-cashing. You'll pay a fee for all of these services, including using the ​Coinstar​ self-serve sorting machines common at many grocery stores. In some cases, you can get a store voucher instead of paper bills, or a gift card. These machines can charge a fee of more than 10 percent of your total.
Some grocery stores have bank branches inside the store. If your grocery store has these services, there's a chance they have a coin sorting/counting machine. If not and you have a small number of coins, you might be able to exchange them for paper bills, due to a shortage of coins businesses are experiencing. This has occurred as consumers have started paying more and more retail bills using digital options.
Although it's not a supermarket, ​QuikTrip​ attracts many people just for its retail foods inside its store. They have 800 locations across the U.S., offer coin exchanges and their employees do the counting. They appreciate coins that are rolled and wrapped, but will accept them if they are not. Many other retailers will also change a few dollars worth of coins for dollar bills if there's no line at the checkout (and it's not 300 pennies).