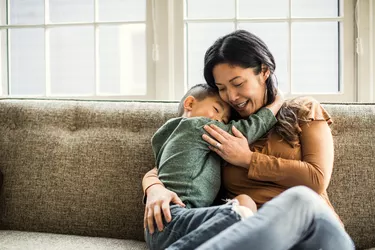 Some state organizations no longer issue checks for the child support payments they receive to disburse to custodial parents. And some states, such as <st1:state w:st="on"><st1:place w:st="on">South Carolina, are still in the process of transitioning away from printing and sending paper checks and implementing a new payment method. This replacement payment method, an EPPICard, allows recipients to receive their funds immediately, loaded onto a state-issued debit card, without having to wait on the mail to deliver their checks.
Tip
An EPPICard is a prepaid debit card, issued by a state organization to custodial parents, which is electronically loaded with their child support payments.
How an EPPICard Works
Specific state guidelines vary, but generally a state organization that processes child support payments loads the payments onto a recipient's EPPICard within two banking business days after collecting and processing the payments. For example, in <st1:state w:st="on"><st1:place w:st="on">South Carolina, the State of South Carolina Department of Social Services/Child Support Enforcement Division (CSED) makes the electronic transfers. Recipients have immediate access to their funds and can use their EPPICards wherever debit cards are accepted.
Activating Your EPPICard
After your state organization issues you an EPPICard, you'll have to use an automated voice-response system to activate your card. You'll receive these instructions with your card, but you'll have to wait until the first deposit is applied to your EPPICard before you can use it. EPPICards are FDIC-insured and protected by the Personal Identification Number (PIN) that you assign to your card during the activation process.
Making Purchases and Paying Bills
To make purchases, simply present your EPPICard anywhere debit cards are accepted including grocery stores, retailers and online merchants. Many merchant locations will also give you cash back with your purchase if you select the "cash back" option from the card terminal before you check out. You can pay your bills in person or online with your EPPICard, just as you would use any other debit card. Unlike a credit card company, which bills you monthly for your purchases, the funds in your EPPICard account are immediately deducted as soon as you use your card.
Receiving Cash at an ATM
By inserting your EPPICard into an ATM and entering your PIN, you can check your balance as well as withdraw cash from your account. You can also present your EPPICard to a bank teller and request cash.
Even though your EPPICard is not attached to a checking or savings account, you can select either the "checking" or "savings" option at the ATM and press the button for a "cash withdrawal" to withdraw your funds. Some banks will charge you a surcharge for using their ATM terminals, so be sure and check your state's EPPICard guidelines for a list of which banks offer free ATM services.
State-Specific Guidelines for EPPICards
EPPICards are known by different names, depending on each state. For example, <st1:state w:st="on"><st1:place w:st="on">Ohio child support cards are called e-QuickPay cards, and Pennsylvania child support cards are simply called Pennsylvania Debit MasterCards, but each of these is still an EPPICard.
Each state also has different guidelines for which banks offer free ATM services, which banks impose ATM surcharge fees, how many free cash withdrawals you can make each month and even fees that may be associated with calling customer support. Be sure to read all the literature you receive with your EPPICard to learn your state's specific guidelines.