Swiping a debit card gets you in and out of the checkout line much faster than if you had to write a check. The cards are similar to checks, however, in that they also withdraw money from your account. You might be issued a debit card when opening a savings or checking account, or you may purchase a prepaid debit card and load it with a predetermined amount of money. If the debit card has a Visa emblem on the front, you'll be able to use the card anywhere Visa is accepted. Before you use the card though, you'll want to check the card's balance.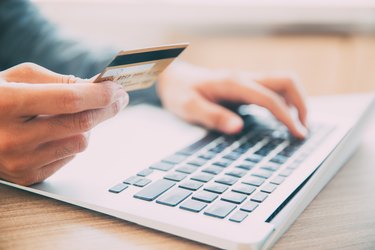 Go Through Your Bank
If your debit card is associated with a checking or savings account, you can go through your bank to find the balance. Stop by the bank's ATM, insert your card, enter your PIN number, press the type of account and then select "balance info" from the available options. Keep in mind that some ATMs charge a small fee for balance inquiries.
Call the Customer Service Number
On the back of every Visa debit card is a customer service number. Dial that number and listen for the prompts. Most companies require you to enter your 16-digit card number followed by the last four digits of your social security number or the four-digit PIN number you set up when you first got the card. Once you input the information, the automatic system will reveal your current balance.
Check the Balance Online
If you have registered your checking or savings account for online banking, you simply can go online to check the balance of your account. Remember to account for deposits that might not have credited and purchases or checks that might not have been deducted yet. If you have a prepaid debit card, some companies allow you to check your card balance right on their website without creating an account. You simply enter the 16-digit card number found on the front of the card and the 3-digit security code found on the back. There may be a box you'll need to check to verify that you are not a robot or a box to enter the verification code that is presented on the screen. When you're done, click "Check Balance." If the Visa debit card you purchased requires registration, you'll need to tackle that step before you can log in to your account and view the balance.
Download the Company's Mobile App
Use your smartphone or tablet to download the Visa debit card issuer's mobile app from either the Apple Store or Google Play. Once you log in to the mobile app, you'll be able to view your balance and transaction history. If your debit card is also a rewards card, you'll be able to view your rewards balance as well.
Send a Text
While not common, sending a text message to make a balance inquiry is still an option for some debit card holders, such as those who hold a reloadable prepaid MoneyCard from Walmart. Keep in mind that carrier message and data rates may apply.