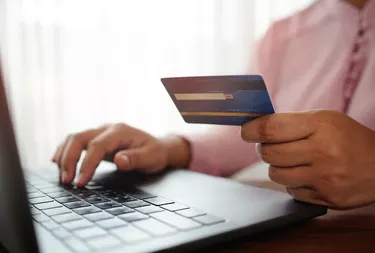 Since Mastercard is widely accepted, a Mastercard gift card makes for an excellent birthday, Christmas or graduation gift. The gift card can be purchased in just about any amount and it doesn't cost much to mail it to the recipient, should he or she not live close by. If you happen to be the lucky recipient of a Mastercard gift card, you will want to keep track of the balance, to prevent spending more than what's left on the card. It's easy to check Mastercard gift card balances with a few simple steps.
Check Mastercard Gift Card Balance
The easiest way to check Mastercard gift card balance is to flip the card over and call the customer service number on the back of the card, as Mastercard points out that their prepaid gift cards are sold via a number of different banks and retailers. An automated system will pick up once you dial the number on the back of the card. You'll need to follow the instructions to punch in your card number and possibly a pin or the CVV (depending on how the card was set up). In some cases, the automated system will immediately reveal your balance and, in others, you'll need to press a number to hear your balance.
Most Mastercard gift cards will also have a link on the back of the card. Type this into your Internet browser to check Mastercard gift card balances. You may have to register the card and create an account before you view the balance. With an account, you may also be able to reload the card, should you wish to continue using it in the future.
Cards Issued by GiftCards.com
GiftCards.com specializes in issuing Mastercard gift cards, as well as Visa, and even allows customers to personalize the cards with a photo and special message. If the gift card you received came from GiftCards.com, you can easily check Mastercard gift card balances without having to create an account (although cards from this site do have to be activated before they can be used). Simply head to giftcards.com/balance and enter the card's 16-digit number. Add the CVN and check the box that proves you're not a robot. Click the orange "Check Balance" button and your current balance will be revealed.
Cards Purchased Through GiftCardMall.com
Gift Card Mall is another popular gift card organization that sells Mastercard gift cards. All cards sold on this site are issued through MetaBank. In addition to calling the number on the back of the card, you can check Mastercard gift card balances by heading to mcgift.giftcardmall.com. You'll notice three tabs at the top of the screen. Click the "Register" tab if you haven't yet registered your card and then the "Personalize PIN" tab if you haven't yet set up a pin.
The "Check Balance/Transactions" tab is what you want to click to view your current balance, as well as a list of all of your most recent purchases. Enter the gift card number, expiration date and CVV2 in the provided boxes and then click the blue "Submit" button to get your results.
Cards Bought on MastercardGiftCard.com
InComm runs MastercardGiftCard.com and is another gift card organization that sells both traditional and business Mastercard gift cards. These cards are issued by Sutton Bank. If your card was purchased on this site, you can either call the number on the back of the card or head to balance.mastercardgiftcard.com to review how much money you have left to spend. In the provided boxes, enter your card number, expiration date and CVV. Then click the orange "Sign In" button to review your remaining balance. It's important to note that the gift cards purchased on MastercardGiftCard.com are not reloadable, so once you've brought your balance to zero, you can safely toss the card.